Cyclist Simon Van Velthooven, who won bronze in the men's Keirin at the 2012 London Olympics, is getting behind the Herald on Sunday Sideline Champs campaign for better behaviour at New Zealand sports events.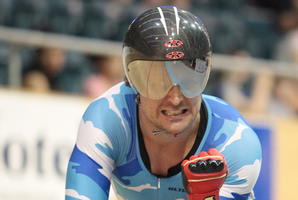 The best support from the sideline I've had was from a larger-than-life American in the velodrome at the London Games.
All she said from the fence was "C'mon Kiwi! You got this!" and I thought to myself: "Hell yeah, I got this. Cheers for the belief, lady."
It was in the semifinal and I had just rolled up to the start line. Tickets alongside the start line went for about $1000 a pop and you clearly had to be a huge fan to shell out for that. It was really nice to know people support you, no matter where you're from - they love sport and they support whoever is giving their best.
Looking back now, it doesn't matter what sport you're watching or who you're supporting, give whoever is out there playing the sport some support.
But I've seen both sides. You get that here in Japan, where I am in my first year of a two-year contract with Keirin track cycling. It's a gambling sport and the punters can get very angry at you.
My life has changed a lot since I was on that bike in the semifinal at London. People seem to want more time with me than before. People are happier to see me and they never seem to get tired of giving me pats on the back.
I believe it's very important to celebrate success once the job has been done. Then you will have so much motivation to do it all over again.
Bad behaviour and sport do not mix. Whether it be from the sideline or on the field, everyone knows where that line is. Just don't cross it.
So why do I support the Herald on Sunday's Sideline Champs campaign? Belief is a word that I like to use. If people believe in you, then it helps you to deliver a level of performance. In a way, their belief makes you afraid to disappoint them, even people you don't know.
And wanting to perform for those who believe in you can be very powerful indeed.
Have your say: Write your own match report on your kids' Saturday morning sports game