Parker's warm-up to Botha carries reasonable chance of KO with 'on-the-run' opponent in good shape.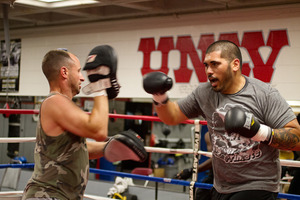 It's ironic in the extreme - Brice Ritani, the bad boy boxer "on the run" after a cannabis charge in New Zealand, now spends much of his time confiscating cocaine in a Las Vegas nightclub.
Ritani is pursuing a boxing or mixed martial arts career (MMA) but pays the bills by working as a security guard at one of Vegas' most successful nightclubs. There, he often sees patrons getting to grips with the well-known club drug.
"It's usually Australians for some reason," he says. "We see them using it and cocaine is way worse than cannabis. We usually just confiscate it and kick them out - and the police do the same thing if they catch anyone using cocaine too."
There's the irony. Ritani - who is due to fight rookie Kiwi professional Joseph Parker on Friday in a warm-up before Parker's bout with Francois Botha next month - made headlines when it was discovered he'd left New Zealand while yet to be sentenced after pleading guilty to cultivating 20 cannabis plants. There's now a longstanding warrant out for his arrest.
The 27-year-old Ritani (he has now dropped the second part of his surname, Ritani-Coe) says he was looking after the plants for a friend, doesn't smoke cannabis, claims sentencing slipped his mind and blames Queenstown police for an overreaction.
His crime wasn't serious enough for New Zealand police to start extradition proceedings and Ritani says he is a United States citizen anyway. He was born in the US before he and his family settled in Timaru and then Queenstown.
He's a bit grumpy about the way he feels Queenstown police handled his case; he says it was a minor offence that could have been dealt with quickly and easily - but instead dragged on for 18 months.
"I was trying for diversion - my mate who had 10 plants got diversion - but my case seemed to go on forever and I kind of forgot about it. I think it took so long because they were trying to do me for dealing.
"But that wasn't it at all - anyone could see that. Then, when I had the offer to come to Canada and then Vegas for an MMA training camp and other opportunities, I just got on the plane and went."
With his US citizenship, Ritani is not on the run at all. He's settled in Las Vegas and his mother is now here too; she works as a sous-chef in one of the Strip's best-known restaurants.
In fact, for a fighter most Kiwis probably perceive has been selected as a "patsy" for Parker's further development, Ritani made some of Parker's connections a little nervous at his training gym at Las Vegas University yesterday. He is 125kg but looks in good shape.
He is a big banger of a puncher but may have trouble staying with Parker for the six rounds; in shape and style he is an ideal precursor to Botha, the squat, heavy-handed South African who, by common consent, should have beaten Sonny Bill Williams in their recent fight.
But the possibility of Parker walking into a Ritani knockout blow seemed a little stronger after yesterday - and such things as an unexpected loss can trim vital revenue streams such as pay-per-view TV.
Ritani has a credible record on both sides of the fight business. In MMA, he has worked with and sparred with names such as Cain Velasquez, Randy Couture and Todd Duffee. On the boxing side, he has three wins, one loss and one draw on the record and has sparred with top heavyweight Hasim Rahman - the man who became world champion in 2001 with a shock knockout of Lennox Lewis and who had two vicious fights with David Tua in 1998 and 2003, with one win and a draw.
But Ritani says he won't spar with Rahman again: "I didn't like it. I will take on anyone - but he started some crazy talk while we were sparring. He said, 'you can't handle my jab, you can't handle my jab', and all his people crowded round the ring and it got threatening and turned into a fight, not a sparring session."
Clearly, Ritani is no mug and Friday's bout at the Hyatt in Huntington Beach shapes up as more of a test for Parker than most realise.
•Paul Lewis is in Las Vegas courtesy of Duco Events.