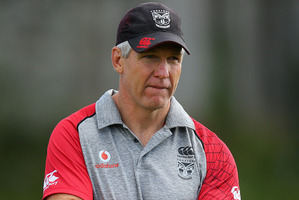 If you thought the Warriors' injury run was bad last year - and it was - it has gone up a level in 2013.
In 2012, the Warriors used 29 players due to injuries and also form. That figure was the second highest in the NRL but already this year (after nine rounds), the Auckland club has used 23 players.
This year, the casualty ward has been bulging, with just seven players of the top 25 available for every match so far. Though the club feel they have turned the corner, in total, a staggering 22 players from the wider NRL squad have been injured this season.
"In all my years of first grade coaching, this is the worst run I can remember," Matt Elliott told the Herald on Sunday. "We haven't had much luck in that area, though thankfully players are starting to come back on board."
Like Brian McClennan before him, Elliott is reluctant to use the long list as an excuse but it has been a factor.
Instead of spending training time bedding in attack and defence structures and working on set plays, the coaching staff have been dealing with new line-ups most weeks.
"It has not been one of the better years," admits captain Simon Mannering, a fixture at Mt Smart since 2005.
Mannering adds that in the seasons that featured strong runs to the finals (2007, 2008 and 2011), the club was able to field virtually the same line-up every week.
The grand final year two seasons ago is the best example; all three Warriors teams were present in Sydney that day and the Vulcans were full of first grade players, such was the surfeit of talent available.
"It's great as a coach when you are rolling out the same team every week," says Elliott. "You have continuity, confidence and your level of training picks up, as you don't have to go back and deal with structural stuff all the time. You get to finesse things."
Arguments can be made about cause and effect (struggling teams tend to have less possession, make more tackles and so on) but there seems a definite correlation between numbers on the injury roster and performance.
All teams currently at the foot of the NRL table have been drastically affected by injuries. The Tigers have been decimated and the Eels have been afflicted, while the Panthers have used more halves combinations than Aaron Gilmore has used inappropriate cliches.
The Titans enjoyed a good start to the year - three wins in their first four games - but their recent slide, winning just one of their last four, has coincided with a spate of withdrawals. The Bulldogs are finally starting to resemble the all-conquering unit of last year, as many of their big guns return to action.
"Studies have suggested that, across the NRL, most teams seem to suffer at least one significant injury [a player out for two to three weeks] per game," says long-time Warriors doctor John Mayhew.
"When you get a few all coming at once - that's when you have problems. It's a brutal sport and the collisions seem to get harder every year."
Mayhew adds that there are generally two danger periods across the season.
The first comes during pre-season and the first five games, when players are still getting conditioned to the physical toll. The second peak period for injuries is towards the end of the year, as the cumulative fatigue factor starts to kick in.
In the AFL, trainers are often rated by the amount of soft tissue injuries - muscle strains as well as ligament and tendon damage - that their respective teams incur.
These are seen as injuries that occur due to issues around training and preparation, as compared to structural injuries (broken bones, fractures, concussions) that are a product of collisions.
"We have had very few soft tissue injuries; they have mainly been collision injuries," says Warriors head strength and conditioning coach Carl Jennings.
"The athletes are getting bigger, faster and stronger. The impacts from these collisions are equivalent to a car accident at 20km/h and they are doing that 20 to 30 times a game.
"There is a huge physical stress on the athlete but we monitor that religiously during trainings and games."
"It is unfortunate to have injuries - especially the amount we have had - but it is all part of it," says Mannering. "It's just footy; you can't dwell on it too much."