Rugby league clubs in some of New Zealand's most deprived neighbourhoods are showing how they can work with their communities to get the drugs, dogs and gangs off the sidelines. Russell Blackstock and Doug Laing investigate.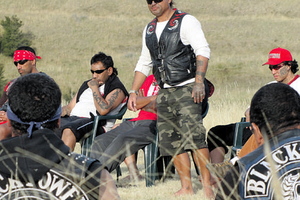 Ringed by 1950s state housing and with a gang pad just down the road, Kirkpatrick Park is hardly the most glamorous of sporting venues.
The bleak and under-used ground accommodates barely two playing fields. But to the people of Camberley, in Hastings, it is seen as a sleeping giant that could unite the area's passionate rugby league community.
A lack of suitable fields in Hawke's Bay is seen by those who run the sport as a block to cleaning up the game's act. There is little chance of improved sideline behaviour when players and supporters do not have a place to be proud of, they insist.
After many years of trying, the game is still without a base in the area. However, chairman and former Kiwis hero Kevin Tamati believes hope is around the corner - and he thinks Kirkpatrick Park is central to rejuvenating local sport.
It is only common sense that improving sporting facilities will encourage a strong sense of community and lead to improved attitudes from supporters, coaches and players.
Tamati recalls how things got so bad last year that he once saw a vicious dog fight erupt at the side of the park as a kids' league game was in full swing.
Parents and elders rushed to intervene as a grinning local thug deliberately set his snarling pitbull on another boy's dog.
"This guy was a complete idiot. For a laugh, he thought it was okay to have his pitbull fighting during a children's game," Tamati says. "That was typical of the thing people had to deal with at local matches in the past so it is no wonder some youngsters lost interest in playing."
Gang problems at Kirkpatrick Park were not new - but what was remarkable was the response from locals.
Parents and elders intervened quickly. They talked him down, and walked him out. And that is what it's all about: clubs and communities working together to create positive environments to support sports, and support the children who are playing them.
For more than eight years, the Herald on Sunday has reported bad behaviour on sports fields, courts and sidelines.
Now, it's time to make a change. That is why this newspaper has launched a campaign called Sideline Champs to support good behaviour on and off our nation's sports fields and courts this winter. We are working with the main sports codes to support and build on their fair play work.
Rugby league in Hawke's Bay is a whanau activity. Tamati and New Zealand Rugby League community and development manager Dain Guttenbeil agree it runs best when everyone is working together.
And for a purpose common to the sport and gangs in the region, four or even five fields are vital, they say.
But then, Tamati explains, things can move in surprising ways, as they did two decades ago when Napier Mongrel Mob members formed the Bulldogs club which, for three years, became a success story for more reasons than just the sport.
It peaked with more than 60 players training three nights a week. Sundays were committed to the game and to whanau.
The amount of street crime in Napier declined and gang patches were replaced by proudly-worn league club jerseys, occasionally with collar and tie.
Guttenbeil insists the environment of the matches is crucial to what goes on in and around them, and good facilities will be very much a part of building positive lifestyles for those to whom rugby league caters - gang members among them. "It's very important to remember why we are putting on league, who we are putting it on for."
Even local gang stalwarts recognise the need for better sideline behaviour and improved facilities.
Rex Timu, a Mongrel Mob leader, now also works as a whanau development worker. His gang chapter headquarters neighbours the park.
He and many of his mates may have crossed lines in the field of battle, but he believes the sideline is one line not to be crossed.
He says some parents step over this too often in an over-zealous desire to see their children win the game, at almost any cost, and perhaps wear the silver fern they never wore themselves.
"The sideline is for watching," he says, reflecting on the benefits of parents supporting their kids on Saturday mornings. "It's about letting them just play the game."
When his son Star was a nipper, Timu knew the boy might have a bit of talent. Bearing the tattoos and jail record of mobhood, he'd be there every Saturday on the rugby sideline, offering $5 a try, and a little advice after the match if the boy asked, "How did I go, dad?"
Rex can now reflect on the development of a son who has a World Under-20 rugby championship winner's medal, a season under his belt as a Hawke's Bay Magpies ITM Cup player, and a future many say will see him in the All Black jersey before too long - not the mob patch that many may once have forecast.
Now, league and rugby players, as well as the local neighbourhood, are coming together to meld a sometimes directionless community through sport. This is starting with parents as leaders, not sideline critics, and hopefully with its own agenda for the park. Already, NZ Rugby League is hailing the initial success of a children's rugby league team being groomed in the area.
The NZRL has placed its stake in Kirkpatrick Park, making the ground a headquarters for the sport where development of age groups in the winter is the priority.
In Auckland, where there are about 777 winter sports fields secured for community, obtaining funding for sporting facilities appears to be a different story.
Over the next 10 years, Auckland Council is ploughing $190 million into developing, upgrading and renewing its sports fields. Moves include providing 66 fields with drainage improvements; 134 new sand carpet fields; 139 fields with new training lights; and 37 new fields with artificial turf.
The project is a combination of local board and regional funding.
"The programme is a fantastic collaboration between the council, sporting organisations and local clubs," says city councillor Sandra Coney, chairwoman of the Parks, Recreation and Heritage Forum.
"It will result in significant improvements across the region."
The first fruits are nearing completion. New artificial turfs at Michaels Ave Reserve in Ellerslie, Starling Park in Ranui, William Green Domain in Highland Park and Seddon Fields at Westmere are fit for play. Fields in 40 of the region's sports parks will be upgraded next summer.
The council recognises better facilities should lead to better behaviour from supporters, coaches and players but in general it refrains from interfering in disciplinary matters at clubs.
In the West Auckland suburb of Blockhouse Bay, rugby league club Bay Roskill Vikings is already embracing the future.
The club bowled its crumbling 1950s facilities and replaced them with a spanking new community centre, complete with a restaurant that is open seven days a week.
So far, the renovations have cost about $1 million - a quarter of the funding came from the Auckland Council and the rest through grants and fundraising. Another $1 million has been allocated for further improvements in the coming years.
Turning their ground into a multi-sport and multi-purpose complex was essential to its financial survival, Bay Roskill secretary Mike Smith explains.
The club has 17 league teams and "several thousand" members. Pride in the new facilities has led to improved sideline behaviour from home and visiting supporters.
In Northland, another winning initiative for improving sideline behaviour has led to many junior league teams playing their matches at central venues instead of being scattered across the region.
On Sundays, hundreds of kids now turn out at fields in Whangarei and Kaikohe.
Alex Smits, general manager of Rugby League Northland, says this allows senior officials and administrators to be in the one place, which helps in monitoring the sidelines.
Perhaps surprisingly, having large crowds of people together in one place can lead to improved attitudes, he says. "It enables us to provide better quality control at the events and we can engage more with parents and coaches.
"It is going a long way to eliminating a lot of bad behaviour and when people are together it tends to temper the language they use as well."
Back in Camberley, 39-year-old mum Vana Hira, who has been involved with school boards of trustees and helped others around the community, now sees another pathway to a better local environment. It's through sport.
There's no sports club or organisation to carry the Camberley flag just now - just the gang headquarters.
So, on a Saturday morning at Kirkpatrick Park, empty but for herself and a few kids looking for something to play, she explains exactly what Camberley needs.
It needs its kids, their parents, the community centre and the park - and something more. "Our goal," she says, "is to have our own sports club."
Hira looks around the state housing surrounding the park. Families and friends need to stop judging from the sideline, or from the kitchen window.
"It is about bringing the people off the doorsteps."