A second round marred by tyre wear and mechanical problems led to 10th spot.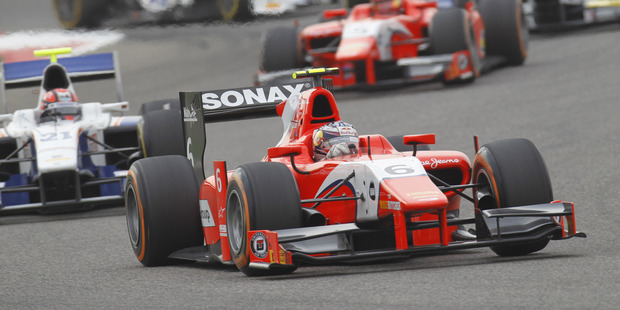 GP2 pilot Mitch Evans suits up this weekend for round three of the championship and is out to make amends for a less than successful, by his reckoning, meeting in Bahrain in April.
The Auckland rookie driver landed back on earth with a bit of a thump after getting a podium finish in race two on debut in the category in Malaysia. His rude awaking came at the hands of mechanical gremlins and tyre wear, but his lap times when racing were up there with the best of them.
Evans left the opening round at Sepang with a 10th and a third place finish to sit sixth in the title race, but after a DNF and a 15th place finish next time out in Bahrain, he slipped to 10th in the championship.
They say mental toughness comes from dealing with disappointment and the fraught time at the Middle East event could be the making of Evans.
"I'm feeling good and have been doing a lot of training in preparation for this weekend and looking forward to getting back in the car," said Evans.
"It's been hard getting over Bahrain, but Barcelona is here now and we're still in a good position [point's table] I think and just need to get a qualifying session done at the front. The car's got good pace and we're still positive."
Getting back to Europe will be a good fillip for Evans because he'll be back on tracks he knows well and tasted success on before.
The category allows for only 30 minutes to acclimatise to any given circuit and Evans was at great disadvantage at the opening two rounds having never been to the racetracks before.
So picking up a podium and 11 points early in the season at places he didn't know bodes well for the future.
Evans is undoubtedly fast and has good race craft, having already won the GP3 series and he'll need to concentrate on the future and not dwell on lost opportunities.
"I am hoping we can pull everything together, get some decent results and more points. Even though we didn't do well in Bahrain, we were still really quick so the pace is there.
"The boys have always prepared the car brilliantly and have gone over it with a fine-tooth comb. The hard part is finding the sweet spot straight away. The car has to be fast straight out of the truck because we only get one practice session and then it's straight into qualifying," said Evans.
Qualifying at this level of motorsport - the category is the closet thing to Formula One without being there - among a great number of talented drivers, who are at times less than a second apart, is crucial.
The race is all about tyre wear and if a driver is at the front he can maintain his tyres very well, but if stuck mid-field or at the back of the pack, the tyres will be destroyed trying to make up ground.
"Everything is about qualifying, especially at Barcelona as it's really difficult to pass so I'm hoping the car rolls out fast, I can drive it really well, and we can have a good result in the qualifying session.
"That's my goal this weekend. I've had great success here [Barcelona] in the past and I'm aiming to maximise my own performance so we can get on top of the weekend," said Evans.
His Arden International team is pleased with the young Kiwi so far and don't forget, he is leading his teammate Jonny Cecotto who's been in and out of the championship since 2009.


Standings
GP2 championship after two rounds
1. Stefano Coletti 64
2. Fabio Leimer 54
3. Felipe Nsar 48
4. Sam Bird 33
5. James Calado 24
6. Jolyon Palmer 22
10. Mitch Evans 11