A week of departures as Fergie leaves Man U and Ronnie the Rocket eyes real estate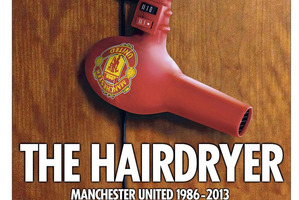 There's only one ...
Sir Alex Ferguson, Fergie, Old Red Nose, The Hairdryer. Even if you hate Manchester United, you have to concede the sport will be poorer for his absence.
Some incredible Fergie stats.
• Manchester City spent more on transfer fees in the last five years than Fergie did in the past 20.
• While Fergie has been in charge, European giants Real Madrid have changed managers 24 times, Inter Milan 19, Chelsea 18, Bayern Munich and Juventus 14, and AC Milan 13.
From sir to sir, with love
Fergie has a fan right here in Nu Zild, Sir JK.
"I have read his book and studied how he manages, which is really interesting ... He has been an incredible person to aspire to."
Good call
A reporter on the business desk of Scotland on Sunday picked up a call meant for his boss who, unbeknownst to him, was dating Sir Alex Ferguson's nephew.
"Hi, is Sharon there?"
"No, she's not around, can I take a message?"
"Can you tell her Alex Ferguson called for her."
"Alex Ferguson?! You actually sound like the real Alex Ferguson."
"(Pause) Very good son, you'll go far."
He did, all the way to New Zealand and a job with the Herald on Sunday.
Beer as medicine
Who was the Warrior, apparently seriously injured on Sunday, seen having a beer in the Northcote Tavern on Monday? He at least had the decency to walk with a limp.
Rocket-power
Ronnie "Rocket" O'Sullivan pleases and perplexes like no other snooker star since Alex "Hurricane" Higgins. This week he won his fifth world championship while threatening to quit and be a property developer. A quote from the Guardian indicates he has a good grasp on that profession. "I've been watching these property programmes where they buy a new house, put a new kitchen in ... it sounds a bit easier than playing snooker."