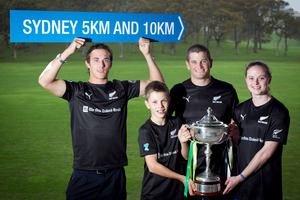 Top athletes from around the country are joining forces in a transtasman battle for charity.
In the Anza Challenge, a Kiwi team will take on athletes from Australia in a five-day race. Teams will run, cycle, row and sail, covering 1300km, with all funds raised going to the Halberg Disability Sport Foundation and the Australian-based McGrath Foundation and Lifestart.
Those on the Kiwi side include Olympic gold medal rower Nathan Cohen, Black Sticks player Gemma Flynn, cycling champ Alison Shanks and former league and rugby star Marc Ellis.
Those fronting up for the Australian team include league legend Laurie Daley, league and rugby great Wendell Sailor, hockey player Kate Hollywood and Bondi Rescue star lifeguard Andrew Reid.
Ellis said he was gearing up for the event, which starts on October 15.
"I'm looking forward to getting out there and taking on the Aussies again. The excitement should hopefully stifle all the soreness in the ageing bones, but it's for an incredible cause."
Cohen said he would be rowing 10 times the distance he was used to but was looking forward to earning bragging rights over the Aussies.
"It's quite a cool thing to race our neighbours so hard but at the same time it's a cool thing to be part of together and at the end of the day we all enjoy each other's company."
The teams will go through cities including Auckland, Hamilton, Wellington, Nelson, Christchurch and Dunedin. On October 20, both teams will hold a 5km and 10km race to the finish line in both Auckland and Sydney - in which members of the public will be invited to take part.
The 5km race in Auckland is sponsored by the Herald and intermediate and secondary school students are invited to take part. Email schools@anzachallenge.com to request an information pack.