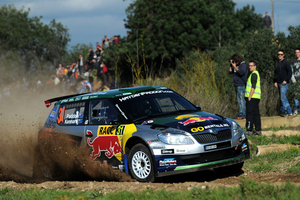 New Zealand's top rally driver Hayden Paddon will return to Europe in July to race in two FIA World Rally Championship events.
Paddon and Blenheim-based co-driver John Kennard will compete in Rally Finland and Rallye Deutschland, both in August, using a Skoda Fabia prepared by Austria-based Baumschlager Rallye and Racing, the same type of car and team with which the Kiwi pair completed the second part of their 2012 season.
Paddon has also entered the WRC's main support championship called WRC2, formerly the Super 2000 World Rally Championship, which incorporates the Group N, R4, R5 and S2000 categories. The only New Zealander to ever win a world rally championship title, the 2011 FIA Production World Rally Championship, Paddon still has the opportunity to contest and win the new-look WRC2 championship after rule changes which sees WRC2 competitors contest any seven WRC events of their choosing and count their best six results.
Paddon and his New Zealand-based management company continue to work on commercial deals to enable Paddon and Kennard to contest four further events in addition to Finland and Germany. There are six WRC events from August.
"It's amazing to be back in the WRC,'' Paddon said. "It may only be two events at this stage but, after last year, I am more determined than ever to put the record straight and showcase what I know we can do - to be the fastest.
"I know we can beat all the other competitors in WRC2, and there are a lot of very good drivers there. It won't be easy, but the target will be to win, and they are both events that I enjoy.''
Paddon and Kennard have contested the Finnish rally each year since 2010 and won the production car category in 2011. The pair contested the German event in 2010 as one of the Pirelli Star Drivers.
"We continue to work very hard on securing a full-time opportunity in the WRC for 2014,'' Paddon said. ``Events such as Finland and Germany, which I've contested and done well in previously, help us get the attention of the management of the new WRC teams and hopefully allow us to process the discussions we've been having with various people.''
- APNZ