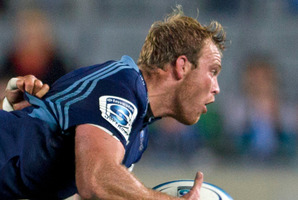 If there was a No 6½ jersey, Luke Braid might already be an All Black. He sits behind Richie McCaw and Sam Cane in the openside flanker pecking order and is probably on a par with Matt Todd and Tanerau Latimer.
Braid's Blues performances are consistently courageous and industrious, characterised by the week three win over the Crusaders. He persevered with a welt over his right eye which looked like he'd sparred with Mike Tyson.
Braid's taken his share of punishment in the ruck and maul as a key figure in the Blues' 2013 resurrection. Debate continues whether his running game can step up because, at 1.85m and 101kg, he appears to lack the natural size required to morph into an All Blacks blindside flanker, with incumbents Liam Messam and Victor Vito, plus emerging talents Steven Luatua and Brad Shields in the picture. He has also played No8 at times, though the side of the scrum positions are clearly his best.
Braid played his 50th Super Rugby match on Friday but remains locked out of the All Blacks fraternity. When he was announced as the 2008 IRB Junior Player of the Year, after his role in New Zealand's under-20 world championship win, it seemed only a matter of time before he'd graduate.
New Zealand has had two others who have since won the same individual award: Aaron Cruden (2009) and Julian Savea (2010). Both have become All Blacks.
Braid's blond beard masks the freckles of youth, his position remains the most arduous in the game and the 24-year-old's already looking into the property market (home town Tauranga has the early running over the Auckland 'burbs). Life is marching on but Braid has gleaned wisdom. He has earned a place on the Blues leadership group.
In 2011, his first season with the Blues, he was voted Players' Player of the Year and he soldiered on last year leading the team through one of its lowest ebbs in Keven Mealamu's injured absence. Surely he deserves some respite? Not when Sir John Kirwan's team mantra is 'better never stops'.
"The captaincy experience gave me confidence the team respects me enough to listen," Braid says. "The responsibility of being a leader but not a captain as part of the leadership group this year is welcome.
"Last year, it was a different situation, knowing we were going through hard times. I was playing well but I took a while to think about taking the job. It wasn't easy but it was an awesome learning curve - thinking about the game as a whole rather than yourself."
Braid says the Blues' defensive progress under Sir Graham Henry has been the catalyst for change.
"I feel like we've been superb [defending] off set pieces. Last year, we got broken a few times. It wasn't so much the personnel but we hadn't worked at it hard enough. This year, with the likes of James [Parsons] and Angus [Ta'avao] backing me up off the back of the lineout means I only really have to worry about [defending off] the scrum by myself."
Braid says one area they can improve is mauling, especially from the lineout.
"A number of teams are mauling smart. Last year, as a lifter, you couldn't get an inch in front of your jumper without getting penalised. This year, those teams have done their homework and have players fully in front of the jumper which gives you a better driving platform to get momentum. We've got a good drive but at this stage, we still want to play to our strengths with such an elusive backline."