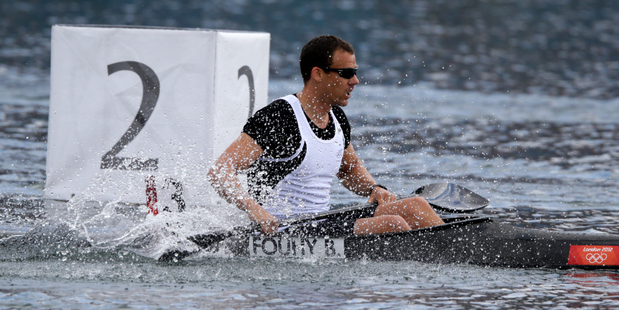 At an age when many athletes might be winding their career down and looking for a fresh challenge, Ben Fouhy is testing himself at the elite level again this year.
Fouhy, 34, is the senior figure in an otherwise young New Zealand kayak squad heading to Europe today.
Where Lisa Carrington, Olympic K1 200m champion in London last year, is the face, and the future, of the sport, Fouhy is the link with the past and hopes he has more gas in his tank with half an eye on the Rio Olympics in 2016.
He has known highs and lows in a colourful career, during which at his peak he was certainly among New Zealand's best international athletes.
Fouhy was the world K1 1000m champion 10 years ago, Halberg Sportsman of the Year the same year, finished second in the Athens Olympic final in 2004 and was fourth in Beijing in 2008. After his bid for success in London went awry, he gave sports funding officials a rocket and at the time that seemed likely to be Fouhy's lot.
Not so, says Fouhy, who maintains getting back on the water this year was always in his thinking even as he knew London would not go as well as hoped.
He doesn't want to revisit old ground. His gaze is firmly fixed on the future.
"I had a feeling going into London that I knew I could still be a lot better than I was at that point," Fouhy said.
"Even before London I felt I wanted to continue and, if I can get a couple of years under my belt without any disruption, perhaps I can get back up there again."
Fouhy pointed out that Eirik Veras Larsen, the Norwegian who won the gold medals at Athens and London, was 36 when he triumphed last year. He's retired, as has 2008 Olympic gold medallist Tim Brabants.
For the moment, Fouhy is looking to test himself this year. His passion for the sport remains intact and if it goes well over the course of the three world cup meets - starting at Szeged, Hungary next weekend - he will be encouraged to aim for Rio.
For now, it's a case of seeing how this year goes. But if he does commit, it will be full steam ahead.
"It's not like 'if I don't do extremely well I'll stop'," he said.
"But I definitely want to see a trend in the right direction. If I can improve on last year, and hopefully that should be achievable, and feel like I'm racing better and stronger, then I'll definitely carry on.
"If I find out for whatever reason I've run out of bullets I'll probably have to accept I've had my time."
Now working for Energy New Zealand in the area of business development, Fouhy has been training on Lake Pupuke. His work commitments make it difficult meshing suitable training times with coaches so he's training with a group of paddlers and "just doing the work that historically has worked for me, concentrating on getting the basics right, quite low fuss and enjoyable".
Fouhy expects a season where the numbers might be thinner in his discipline than recently but of a high quality. He wouldn't want it any other way.
"Absolutely. There's no point kidding yourself.
"That's something I've always maintained. It's not about New Zealand records or titles but how can we rate ourselves on a world standard. You want to test yourself against the best."
It promises to be an intriguing year.
Carrington will contest the K1 200 and 500m events, there's a men's K4 of Daryl and Jarrod Fitzgerald, Jasper Bats and Zac Quickenden, and a women's K2 500m of Teneale Hatton and Rachel Dodwell rounding off the group.