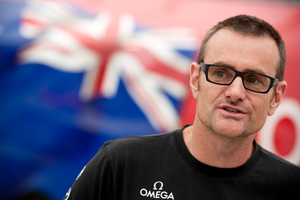 Q. Is the AC72 the most challenging design project you've ever been involved with?
Oh, without a doubt, essentially we've gone from 2D yachting, where you could assume the boat was on the surface, to three-dimensional yachting the way we're lifting the boat out of the water, so it's a huge level of complexity.
Q. If you had another 12 months build-up, how different would the boat be?
I think the pace of development is still incredibly steep and that is going to be the tough thing for us to manage going into this - that trade-off between slowing down development in order to make things reliable, versus continuing to develop speed.
Q. How did you feel when the boat got up on foils for the first time?
Pretty nervous to be honest. You were just sitting there watching all the strain data coming in off the daggerboards, so right in that moment you're just too busy doing all the technical stuff to think about it too much.
Q. And once you came off the water?
I think I had a pretty huge grin on my face - it is quite an accomplishment. It's such a surreal feeling even still, I look at the chase boat and watch it with a certain amount of disbelief to be honest.
Q. How closely do you watch what the other teams are doing?
We do watch them closely. Certainly since Oracle have relaunched we pay pretty close attention to them.
Q. The America's Cup is known as a pretty murky world with all the spying allegations - does that tend to make you paranoid?
I don't think you can let it do that to you. It's a murky world in a number of directions, there's the spy thing and it's a very political game. You've just got to play the hand you're given and at the end of the day from a designer's point of view if you can put something on the water that's fast, that's all you need to worry about.
Q. Do you go to great lengths to try and throw the spies off?
No, not really. Maybe that's something we've been guilty of is not going to enough lengths in that sense. Our strategy has been to get on the water early and try to maximise the sailing time to get the most information possible to bring into boat two.
Q. What is still to be done from a fine-tuning perspective once you get set-up in San Francisco?
There's still a fair amount to get through. We've got more generations of daggerboards to come and a lot of the detailing was always going to be later. The control systems for the boat are the thing really that will continue to be refined for the longest. If we can make the wing easier to trim, or a bit more automatic in its response, those sort of things can have a lot of impact.
Q. Are you nervous about how the boat will handle in San Francisco Bay?
Not really, we've seen some really big conditions [in Auckland] with winds in the high 20s and very choppy conditions. I'm very comfortable that we've chosen a pretty reliable boat.
Q. Which member of the Team New Zealand crew would you never allow to take the helm?
Richard Meacham [bowman and sailing team design liaison].
Q. What's the first thing you plan to do once the America's Cup is over?
I will be turning off the phone and heading to the bach for a few weeks and re-introduce myself to my kids.