Blues star recovers from infected finger but has to get to grips with move to wing.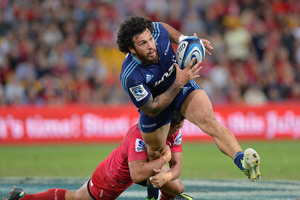 From hospital bed to left wing, Rene Ranger has a key role to play for the Blues against a Stormers team which will be looking to suffocate the life out of Sir John Kirwan's backline tomorrow night.
An infected finger which Ranger believes was hurt while fishing during the Blues' bye weekend before the recent 12-11 loss to the Reds in Brisbane is what put the 26-year-old into Middlemore Hospital.
"I was pulling in a net, trying to catch some mullet and stuff," he said. "Whether it got a scratch and got infected, I don't know. The doc put me on some antibiotics and it came sweet [but] in Aussie it just flared up again. I got back on Saturday and saw the doc on Sunday. It was that bad I had to go to Middlemore Hospital and get put on a drip."
Ranger showed no ill effects at Suncorp Stadium, where he was at his aggressive best with and without the ball. Released on Monday afternoon but still on antibiotics, Ranger said he had recovered but he has to quickly get to grips with a positional change from centre.
"I feel pretty sweet," Ranger said. "I suppose the rest has done me good, too. I had a couple of days off."
Francis Saili, back to the starting XV, and Jackson Willison get the midfield duties.
Kirwan said as attack coach he would have to earn his money this weekend but, while he was cagey yesterday about the opportunities he intends to exploit at North Harbour Stadium, common sense dictates they will be out wide where Ranger will be lurking.
Frank Halai, an attacking revelation for the Blues this season, will be a handful on the other wing.
The Stormers' renowned defence was to the fore in their victory over the Hurricanes in Palmerston North last weekend, but the two tries they conceded were due to lapses down the flanks, the most obvious being wing Gio Aplon's misread in the first half.
Kirwan would only say: "They try to choke you by coming off the line very quickly, so if we don't adjust to that we won't be able to play our style of football ..."
Ranger would prefer to stay at centre but he acknowledged the ability to play wing was beneficial.
A recall to the national team after an absence of three years is clearly in his mind and he said the access to Kirwan and Sir Graham Henry was also extremely helpful.
"Earlier in the year I had a good yarn to JK and Graham Henry about it. They guide you towards those goals and in doing that you play well for the Blues. It's a matter of playing well and being consistent for the Blues and having them is quite encouraging - getting that information and confidence out of them."
Former All Black lock Anthony Boric has received the all-clear following another neck problem to take his place on the bench.
Hooker James Parsons is likely to miss the next two weeks with a neck problem, giving Keven Mealamu an opportunity to reclaim the No2 jersey.
Lolagi Visinia, 20, is on the bench as cover for wing or fullback, with Albert Nikoro dropping out.
- APNZ