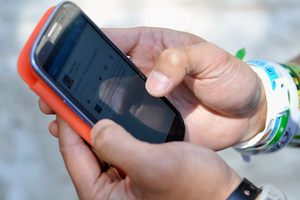 British and Irish tour manager Andy Irvine said today that there will be a social media protocol in place when the squad tour Australia in June.

While there will be no outright ban on players using the likes of Facebook and Twitter, Irvine is keen to avoid creating an unwanted media firestorm as a result of a casual comment.

"Social media these days you can make a mistake and it can be around the world in seconds. We do have a protocol we will be following,'' Irvine said after formally announcing a 37-man Lions squad in London on Tuesday.

"It's not as if we are headmasters and telling kids what to do,'' the Scotland great added. "There will be an opportunity for the players to look at it (protocol) and accept it and understand it.

"It takes years to build up a good reputation but you can lose it in seconds. We are alert to that.''

Irvine, a full-back and occasional wing who played nine Tests for the Lions spanning three tours from 1974 to 1980, stressed he was not anticipating the kind of off-field distractions that overshadowed England's wretched World Cup campaign in New Zealand two years ago.

Following a night out in the resort of Queenstown, which included dwarf-tossing, England players found themselves in the spotlight over accusations of excessive drinking and unprofessional conduct.

Irvine said he had left the selection of the squad to coach Warren Gatland.

"The only area I might have interfered in is if they had picked a controversial character that would have been a risk or a damage to the tour in a personality sense, or someone who was so high profile there would be a media circus following them,'' Irvine explained.

"That never arose, and it didn't even look like it would this time.

"You have got to have a good set of tourists, a good set of guys, and I am very confident there is not one on the tour who comes even close to being a concern,'' he stressed.

The Lions have not won a Test series since defeating the Springboks in 1997 and lost 2-1 in South Africa during their last tour four years ago.

That 2009 campaign was considered to be a far better all-round campaign then the preceding 2005 series where the Lions were hammered 3-0 by New Zealand.

Then, World Cup-winning former England coach Clive Woodward was criticised for not giving "fringe'' players a fair shot at making the Test side.

"We thought long and hard in 2009 about how we were going to run the tour,'' said Irvine.
"The only thing I would change was the Test series loss.

"The players will be training as hard as ever and it will be very disciplined and very methodical, but there has to be a time when you give them some down-time because physically and mentally it is very challenging.

"We want the players to enjoy themselves, because that is part and parcel of touring, but within reason.''