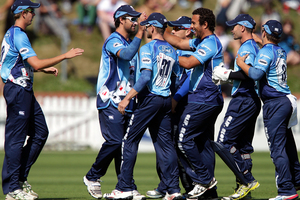 Former New Zealand opener Matt Horne has been appointed as the new coach of the Auckland cricket side.
He takes over from former Zimbabwe spinner Paul Strang, who stepped down from the role at the end of the domestic season after four years at the helm. Strang felt the team needed a new voice to lead them.
Horne has been Auckland Cricket's network coach for the last four years and in that time guided both the Auckland A and under-19 sides to national titles and he was also New Zealand under-19 coach at the World Cup.
Horne had been in charge of Auckland for the last portion of the 2012/13 season and was at the helm when they won the Ford Trophy.
"Having that last part of the season in the role really gave me an idea of what the position is all about and confirmed for me that it's where I want to be, so I'm very glad to have got the nod,'' he said.
"There's a winter of hard work ahead but I'm very much looking forward to getting stuck in and doing the groundwork to try and make next season a successful one for the Aces.''
Horne will officially commence as Auckland coach on June 1.
- APNZ