Unbeaten fighter returns to the ring after a term in jail that altered his outlook on life.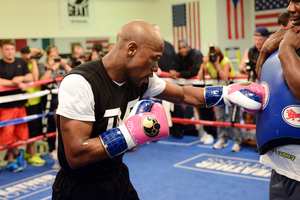 Floyd Mayweather jnr went through something of an epiphany last year while serving an 87-day jail term for domestic abuse. The world's No1 kilo-for-kilo boxer wrote letters to friends, family and members of his promotional team telling them of his gratitude. He bought his grandmother a house.
It was the start of his rehabilitation, a process that will climax this weekend when he faces Robert Guerrero in a defence of the World Boxing Council welterweight title in Las Vegas.
Mayweather, still unbeaten after 43 fights and a six-time world champion in four weight classes, has lost none of his lustre as a fighter. The bout with Guerrero marks the start of a new six-fight, 30-month deal with broadcasters Showtime that is expected to lift Mayweather's gross earnings close to US$500 million ($586 million).
Yet it is debatable whether Mayweather, 36, will possess the same self-confident strut that was his calling card before his prison sentence. "The only thing you can do when you're locked up is just do push-ups and read and write," he reflected.
"Write to your fans and write to your loved ones. That's all I really did.
"What did I think about every day? I thought about my children. I thought about my family. Of course, I thought about my career and I'm happy to be home.
"Anybody should know, your freedom is extremely important. There's nothing more important than freedom. Once you lose your freedom, you understand that."
Guerrero, the challenger and the underdog, has said that he wants to "humble" Mayweather in front of God and explained how age might be finally catching up to one of the sport's true greats. Guerrero said he was motivated to defeat boxing's biggest draw "because of the way that he acts, the way that he lives, the way that he spends money and the way that he boasts about stuff".
"He's got everybody thinking that he's unstoppable and that nobody can beat him. Floyd believes that there is no blueprint to beat him. Being a big believer in God, there's a blueprint for everybody."
Southpaw Guerrero's build-up for the fight was marred by his arrest last month for trying to take an unregistered firearm through JFK Airport in New York.
In a professional career spanning 43 bouts over more than 16 years, Mayweather has defeated all comers. But he seems more in control of his mindset, and his life, than ever before.
"He [Guerrero] is a young, tough competitor," said Mayweather. "He talks a good game so now we'll just have to see if he can fight the same way he talk."