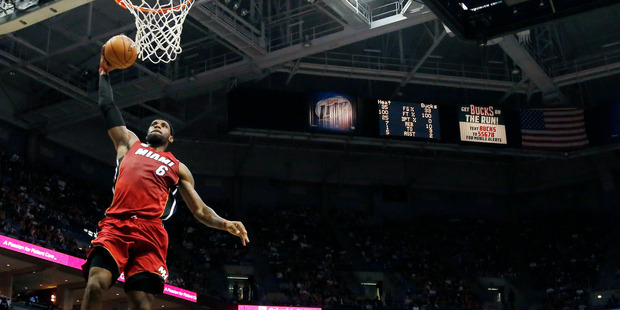 LeBron James scored 30 points to lead Miami over Milwaukee and complete a sweep into the second round of the NBA playoffs yesterday.
Defending champions Miami rolled over the Bucks 88-77 to win their Eastern Conference best-of-seven series in four games and become the first team to advance despite guard Dwyane Wade being sidelined by a knee bruise.
Wade will have time to heal - the Heat will not open the second round against Chicago or Brooklyn until this Sunday at the earliest.
"The way we are playing, we don't want too much rest," James said. "We just have to continue to work our habits, get space on offence and stay tight on defence."
It was the first time the Heat had swept a series since 2005, after taking 3-0 leads in the opening playoff round the past two years but failed to finish off the set in four games either time.
In other results, Tony Parker led five San Antonio players in double figures as the Spurs beat the depleted, dispirited Los Angeles Lakers 103-82 to knock them out of the NBA playoffs.
Parker scored 23 points as San Antonio completed a four-game sweep in the Western Conference - the first time the Lakers had been swept in a first-round series since the playoffs expanded to 16 teams in the 1983-84 season.
"It was just a weird feeling," Parker admitted after the Spurs posted their fourth straight double-digit victory over the Lakers - who scraped into the playoffs but had to make do without superstar Kobe Bryant, who tore an Achilles tendon in the final week of the regular season. The Lakers team were also missing injured point guard Steve Nash, Steve Blake, Jodie Meeks and veteran Metta World Peace.
In Boston, Jason Terry scored the Celtics' last nine points in the final 92 seconds of overtime to lift the hosts over the Knicks 97-90 and pull Boston within 3-1 in that series, whose winner will face Atlanta or Indiana.
The Celtics forced a game five on Wednesday, although no team in NBA history has ever rallied to win a playoff series after losing the first three games.
"The spirit and heart of a champion is what kept us going," Terry said. "They made a great run at us. But we're not dead yet."