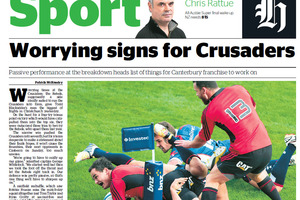 A brief look at the sports stories that are making news this morning.
In the paper
Peptides: Inside the secret lives of sport cheats
Powerful new-generation, performance-enhancing drugs are flowing into the country largely unchecked, a Herald investigation has found.
In a three-part investigation Herald reporter Steve Deane looks at how easy it is to get hold of peptides and takes the performance-enhancing drug to assess the affects.
Pulse upset Magic
The Central Pulse decided to save their history-making exploits until this weekend.
First time for everything
After blowing a nine-goal lead on their way to missing out on the opportunity to pick up their first win over the Northern Mystics last week they produced their first win over the Waikato-Bay of Plenty Magic in Wellingtonlast night.
Rebels give Crusaders a big fright
Worrying times at the Crusaders. The Rebels, supposedly a side ideally suited to run the Crusaders into form, gave Todd Blackadder's men the biggest of frights in Christchurch.
Not the plan
On the hunt for a four-try bonus point victory which would have catapulted them into the top six, they were outscored three tries to two by the Rebels who probably deserved a little more from the match.
Vickerman already sizing up lofty targets
Dean Vickerman has barely been in the job 48 hours but the new Breakers' coach is already casting an eye to future.
Lofty goals
Winning a fourth straight championship, becoming sustainable and successful enough to justify their own stadium, creating a succession plan as pain-free as the one from which he profited - it certainly doesn't sound as if Vickerman plans to tread water.
Overnight news
Van Persie earns draw on Arsenal return
Robin van Persie marked his return to Arsenal by scoring a penalty amid a chorus of boos to give newly crowned Premier League champion Manchester United a 1-1 draw today that also hurt his former team's chances of making the Champions League.
Around the grounds
Chelsea kept the Champions League qualifications hopes on track with a 2-0 win over Swansea while Reading and QPR did each other no favours with their 0-0 draw meaning both will be relegated.
Nadal wins eighth Barcelona Open
Rafael Nadal won the Barcelona Open for the eighth time this morning after seeing off Nicolas Almagro 6-4, 6-3 in the final.
He's back
It was Nadal's 54th career title and fourth this year, having made six straight finals after returning from a knee injury that had kept him off the courts since last summer.
By the numbers
14 point winning margin to Alex Maloney and Molly Meech in the 49erFX class at ISAF Sailing World Cup in Hyeres, France.
100% record by Maria Sharapova at the Stuttgart WTA tournament.
3-1 lead by the Chicago Bulls in the first-round NBA playoff series against the Brooklyn Nets
Quote of the day
"It is too early to talk about the French Open."
Defending champion Maria Sharapova who will contest a Stuttgart WTA final against another past French Open champion Li Na.