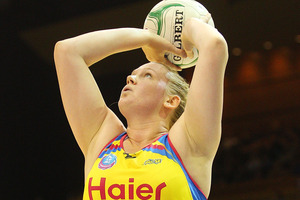 The Central Pulse decided to save their history-making exploits until the weekend.
After blowing a nine-goal lead on their way to missing out on the opportunity to pick up their first win over the Northern Mystics last week they produced their first win over the Waikato-Bay of Plenty Magic in Wellington last night.
The 53-52 triumph was a crucial result for the side who continue to make progress in a season where they believe they can finally make the playoffs.
Since the formation of the ANZ Championship in 2008 the Pulse had never tasted success over the Magic but they produced some clutch moments in the fourth quarter last night when the heat was on.
Liana Leota flew across the court like the Energizer Bunny on speed while the Pulse's shooting duo of Caitlin Thwaites (32/37) and Donna Wilkins (21/23) continued their impressive campaigns.
The fourth quarter was a tight affair that began at 41-40 in favour of the Pulse and finished with a couple of crucial shots from Thwaites.
In the third period, the Magic looked like they would take complete control of the contest as they rumbled to a five-goal lead but when they were down 39-34 the Pulse clicked in to gear.
They forced a couple of crucial turnovers and fought their way in to the contest, with Daya Wiffen providing plenty of energy at wing defence after she was brought on at half-time in place of Victoria Smith.
Smith was again handed the start in the absence of Joline Henry, who didn't even dress for the game and was listed on the team sheet as ``technical advisor'' with Wellington's Nicola Mackle added to the squad.
The second quarter was an exciting exhibition of goal-for-goal netball as both sides slugged it out like prize fighters as neither team flinched.
Shots were made from varying positions on the floor while the defence was suffocating at both ends of the court before finally something had to give.
Leana de Bruin made a crucial intercept for the Magic with a couple of minutes left before half-time which shifted the momentum back to the visitors.
They overhauled the Pulse's two-goal lead to take a one-goal advantage in to the changing rooms at the main break.
Wilkins had the chance to tie it up at the split but her long bomb bounced out of the rim.
Earlier, an even opening quarter set the tone for the contest as both teams traded goals as they headed to the first interval with the Magic ahead 13-12.
It was a lead that would change hands at various times throughout the night and eventually the Pulse held it when the final whistle blew.
Central Pulse 53 (Caitlin Thwaites 32/37, Donna Wilkins 21/23) Waikato-Bay of Plenty Magic 52 (Irene van Dyk 29/29, Ellen Halpenny 23/29) 1Q: 12-13, HT: 27-28, 3Q: 42-42
- APNZ