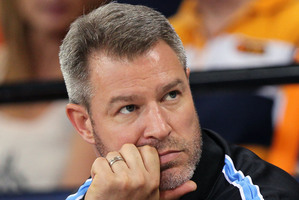 Dean Vickerman has barely been in the job 48 hours but the new Breakers' coach is already casting an eye to future.
Vickerman was confirmed as Andrej Lemanis' successor on Saturday, a promotion which was forecast from the moment the three-time champion applied for the Australian national team job.
Vickerman was only just beginning to ease into Lemanis' giant shoes when he laid out a series of lofty goals for his tenure in charge of New Zealand's most successful sporting franchise.
Winning a fourth straight championship, becoming sustainable and successful enough to justify their own stadium, creating a succession plan as pain-free as the one from which he profited - it certainly doesn't sound as if Vickerman plans to tread water.
That must have been tempting having entered waters so settled, but the 41-year-old instead wants the club to continue its current upward curve and there's no reason to doubt that happening during his initial three-year contract.
''[Lemanis'] record is right up there with the best teams ever in this league,'' Vickerman said. "My job is to try to continue that.
"The club's put itself in a fantastic situation, where the support structure around the coach is so good. There's a lot of consultation with management and a lot of feedback.
"When you've got that and everybody's pulling in the same direction and trying to make you better, you can only succeed.''
Vickerman will have fellow Lemanis lieutenant Judd Flavell pulling with him, and he hopes to recruit former favourite son Paul Henare to join them.
Along with that pair, Vickerman wants to add another bright young Kiwi coach in a new role aimed at player development. Ross McMains, a former intern at the Breakers and currently working with the Sacramento Kings in the NBA, has been specifically targeted to help provide Vickerman with a support structure as solid as the base Lemanis built around.
"With them, I can develop a succession plan for after me,'' Vickerman said. ``There's obviously going to be a bunch of Kiwis under me in the coaching scheme and hopefully I can get one of those guys ready to be the first Kiwi coach of this club since [inaugural coach] Jeff Green.''
Where the Breakers will call home when the next coach takes over is another question. Having surpassed them on the court, the Breakers have said they want to emulate the Perth Wildcats behind the scenes - and the Western Australians have set some example with the majestic Perth Arena.
Vickerman was transfixed by Vector Arena when he first stepped foot in the downtown venue for an Alicia Keys concert - ``she was actually really good'' - and whether the Breakers can make that a permanent base or whether they find somewhere else of a similar size, it would be no surprise if they soon outgrow the North Shore Events Centre.
"Basketball can take the next step when teams are starting to take control of their revenue streams and their ability to make money out of the game,'' Vickerman said. "In three years there's a chance to take it to the next level. Do we have our own stadium? Is that something that's possible?''
As the Breakers have shown time and again the last three seasons, anything is possible for this club. Vickerman aims to reinforce that belief by chasing two more marks in his first campaign in charge - an unprecedented fourth straight title and a record-breaking seventh ANBL ring for the possibly-retiring CJ Bruton.
Ambitious plans, but the Breakers would expect little less from the new man in charge.
- APNZ