Rugby is in the dock again with more players involved in court action or stood down for team protocol misdemeanours. Gregor Paul looks at the NZRU's move to review the way they support their players - but says that it may not be the national body that needs to review its responsibilities.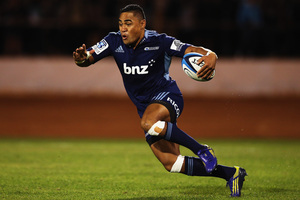 Perhaps money really is the root of all evil. In the week the New Zealand Rugby Union announced a $3.2 million profit and news broke of a major pay rise on the cards for professional players, three young men hit the headlines.
Julian Savea, Francis Saili and George Moala made the news for different reasons but they may be illustrations within the 'big picture' of the national game: The more rugby grows commercially, the more it creates cracks into which many players can potentially fall.
Financially, the game has begun an era of fulfillment, where commercial returns better reflect the power of the brand. The players, both established and emerging, mostly have an unprecedented understanding of professionalism.
There are development structures that stretch from the All Blacks down to schools; there are unified talent identification programmes; there is an advanced knowledge of sports science; there are skilled support staff littering the landscape; there are seminars, tutorials and education programmes helping players deal with every aspect of their playing and non-playing lives; there are skilled and vetted agents; there is blanket media and broadcast coverage and, at every level of the game now, right down to kids getting ready to leave school, there is money changing hands.
It's glorified pocket money at the lowest level but life-changing sums at the top end - and those payments are set to grow again with the new collective agreement soon to be signed.
Money is flowing into the game. Giant US insurer AIG is on board as a sponsor for five years, Adidas until 2019, others such as Bulgari want to increase their involvement and there is every chance a new broadcast deal from 2015 will be of record proportions.
Everyone wants in because the All Blacks are world champions, the sevens team are world champions, the Maori team excite, the under-20s are phenomenal and the women are reigning XV-a-side world champions and aspiring sevens Olympic gold medallists.
Rugby has never had it so good: the players have never had it so good and yet what should have been a week of celebration was turned into a media circus by incidents involving Savea, Saili and Moala.
These three young men are the latest, not the first, to be in the dock. In the past seven years, 11 professional players in New Zealand have been charged with assault and probably double that number have faced other charges.
It seems an easy enough proposition for the players: train, play, be a good citizen and take home enough money over a career to retire.
But too many players aren't able to follow those simple steps: too many appear to be falling through those cracks despite all the education and a peer group that is generally morally sound and leading by example.
Rugby, despite the claims by administrators that it is merely reflective of wider society, has a disproportionately high number of employees who battle issues such as anxiety, stress, alcohol and drug abuse, relationship breakdowns and depression.
As the Herald on Sunday revealed last month, 81 employees have sought professional help for one of those issues in the past five years, which is why NZRU chief executive Steve Tew has ordered an independent inquiry to see whether his organisation is doing enough to educate and support players.
"We are constantly looking at the development of our players, both on and off the field," he said. "We benchmark ourselves against a lot of other professional sports worldwide. We've had people recently attend a conference in North America, we have a lot of people coming out here to look at what we do and it's fair to say, generally speaking, people think we have got a very good player development programme in place.
"But no system's perfect and we are having, I guess you could call them, casualties inside our environment and we'll just get someone to come and have a look and tell us."
There is no dispute with the claim that the NZRU, in partnership with the New Zealand Rugby Players' Association, is a world leader in off-field player development initiatives. There's probably not a workplace quite like professional rugby in New Zealand and perhaps it is a long bow to draw, or an obvious question for the review to ask-but is affluence the corrupting factor?
There is no other industry, not medicine, law or accountancy, that pays so many young men six-figure salaries.
Wealth provides access to both positive and negative influences and the precariousness of it in rugby (for example, whether a contract will be renewed or not) carries a unique stress.
The bigger, more pertinent question for the review, however, is around personal responsibility. That phrase has been conspicuously absent in the past week.
Tew may call those who transgress "casualties of the environment", but it feels like he really means "victims". The national body has given the impression that it almost blames itself for players winding up in court.
But if this commissioned review is to be worthwhile, it will surely conclude that the NZRU and NZRPA can only do so much. It will find that education programmes are robust and vast.
It's not possible for anyone to reach the professional ranks and not have been advised on the various pitfalls that await.
Players learn about nutrition; the dangers of drug and alcohol abuse; how to conduct themselves on a night out; how to deal with unwanted attention on a night out; the need to invest their money wisely; the need to have a retirement plan, to either study or develop alternative employment avenues.
The two respective bodies can't live the players' lives for them. The three men in trouble last week didn't transgress out of ignorance: they had choices to make, and despite all the help, support and education, it would appear they made bad ones.
Might the review suggest that in future, administrators throw greater emphasis on the failings of the individuals rather than the system? Might it be healthier for everyone, particularly the real victims of criminal transgressions, if the national body didn't come across as complicit, apologetic and guilt-ridden - as if they were responsible for the perpetrators' actions?
Giant strides have been made in the last decade to eliminate the institutionalised drinking culture that once existed. The mantra at the heart of that purge was 'personal responsibility'.
The review may well find that despite all the welfare programmes, that paying vast sums of money to significant numbers of young men is inherently fraught with danger. Other codes, particularly football, the NFL and NBA, which bestow obscene wealth on their topline talent, have a seemingly continuous flow of players accused of criminal activity.
Not every player can be saved from themselves or steered through an environment that holds temptations beyond the reach of most. But probably more could be than currently are, if only it was made clearer that there comes a point when individuals have to accept they are exclusively responsible for their actions.
Equally, there comes a point when the consequences for not being so have to be punitive in the extreme.