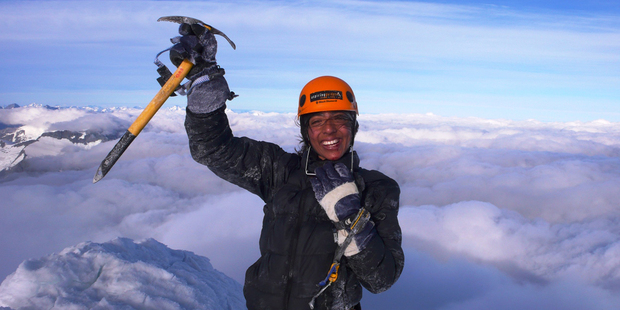 Neelusha Memon loves pushing herself to the absolute limit. The 28-year-old legally blind woman is preparing for her biggest challenge yet when she attempts to conquer the Seven Peaks around the world over the next four years, beginning next January in South America.
Achieving incredible things has become second nature to Memon, who works as an intern for Green MP Mojo Mathers. She finished 12th in the Bordeaux Paracycling Championships in 2007, she has climbed Mt Aspiring, skied the Tasman Glacier, completed the Speights Coast to Coast and kayaked Cook Strait.
It is a list of achievements that would be remarkable for any full-sighted person but the fact that Memon has only 30 per cent vision makes her will and determination astounding. We caught up with the Wellingtonian who cannot wait to begin her adventure to the highest peaks around the world.
She wants to change perceptions, or in her words: "The whole reason I do these things is so people realise they are not that amazing. It's just a perception."
Where did the idea of conquering the Seven Peaks around the world come from?
After climbing Mt Aspiring, I got the climbing bug. I love the mountains. When the opportunity of the Sport NZ Hillary Expedition Grant came up, I applied for funding to climb one mountain. However on receiving it, I realised my dream to climb the seven summits on the seven continents. I'm very lucky as Gavin [Lang], my support and guide, has agreed to do the seven with me.
Where do you begin and what will be the biggest challenge in this?
The first is Aconcagua which is scheduled for January next year. I'm lucky as this mountain is not technically difficult. The biggest hurdles it will pose are altitude and acclimatising fast enough before I get altitude sickness, which can be very debilitating. We are then hoping to climb Elbrus in Russia and Kilimanjaro in Africa that July, which will hopefully both be straightforward mountains.
You are legally blind - explain what that means, what do you actually see?
I have 30 per cent vision. Yes, I am legally blind but I don't feel that way. I'm able to see most things, just not very clearly and I find it difficult to see colours which don't contrast. I guess in the mountains everything is covered in snow and I do rely on my guide to tell me when there are changes in gradient or condition of the snow. Earlier this year while attempting a summit of Cook I fell through a snow bridge into a crevasse as I didn't see the edge of the bridge well enough to ensure I wouldn't overbalance. I don't feel disabled in the mountains as there are no signs I can't read or moving cars I don't see. I think the mountains are much more than views for me. I feel immensely peaceful and present in the mountains and that does not require vision.
What do you enjoy about conquering massive achievements like this?
I guess for me it's not about conquering massive goals. The challenges I do are perceived as massive goals and that is because it's how society views them as they require a certain amount of risk. However by the very act of doing them, with support, I hope to make other people realise anyone can conquer their own personal mountains with passion and the right support, no matter what circumstances you are in. The mountains are the last place you would expect to find someone with my impairments but my passion and the fact I have support allows me to be there in the place I love.
What do you enjoy about being among the mountains?
Being in nature is the amazing thing I love about the mountains. I love the stillness and the complete peace I feel in as I climb. I find I feel more disabled when I'm in society, in towns or cities, than when I'm in nature. The mountains don't care if I live or die. They don't try and protect me or hurt me. It's up to me what happens. I need to be fully present and aware of every move I make to ensure I don't hurt myself. I love that feeling of responsibility I only have in the outdoors.
How have you been preparing for this?
A lot of planning goes into a goal like this. I've been doing a lot of work on the campaign. We need to find partners to enable me to climb the seven peaks and become the first blind woman in the world to do so. We've been doing a lot of logistics work, trying to work out how we can do the mountains and also what the barriers will be. Training has been a lot of base fitness over the summer and then winter when the snow comes for specific snow skills. I'll be doing this at Ruapehu supported by the NZ Alpine Club.
No doubt you've had a lot of people try to stop you and talk you around - what have you said to them?
Yes, people have tried to stop me putting my energy into this goal. However, I think once people talk to me and see my passion for what I'm doing, they realise what it means to me - that it's much bigger than just a bit of fun.
I know the risks and if I'm prepared to face them, then I think that is up to me.
What would it mean if you became the first legally blind person to complete the seven peaks?
There has already been a guy do it - Erik Weinheimer - who is blind. But to be the first woman would be great. It will be great to get New Zealand back on the mountaineering map, after Ed Hillary, and I hope what I do will inspire the younger generations to get out into the outdoors and learn some skills which you can't learn in front of a television or computer.
What advice do you offer to people who are looking to overcome challenges in their lives?
I just really want people to be like me and not put limitations on themselves. Go after your dreams, because with enough passion and the right support, anything is possible. Don't listen to people around you saying you can't do it or you shouldn't do it. If you know in your heart that you want it, then only you are the one who can make it happen or stop it happening. Other people are not you.
Neelusha Memon's schedule
1. Aconcagua, South America (6960m) - Jan/Feb 2014
2. Kilimanjaro, Africa (5000m) - May/June 2014
3. Elbrus, Europe (5642m) - May/June 2014
4. Denali-McKinley, North America (6194m) - June 2015
5. Everest, Asia (8848m) - April/May 2016
6. Vinson, Antarctica (4897m) - Dec 2016/Jan 2017
7. Kosciuszko, Australia (2228m), Bass list 7th Summit - Jan/Feb 2017
Sporting achievements
• 12th in Bordeaux Paracycling Championships 2007
• Climbed Mt Aspiring
• Skied the Tasman Glacier
• Completed the Speights Coast to Coast
• Kayaked Cook Strait