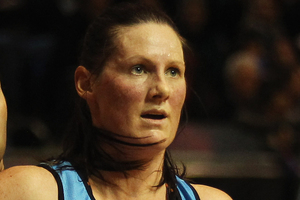 Donna Wilkins has seen it all before.
During a busy sporting career that has endured more than 15 years of top level netball and basketball, countless titles and even a brief trial stint in the WNBA, Wilkins knows when to take a team seriously.
The Central Pulse should beat the Northern Mystics in Auckland on Sunday night.
Considering the Pulse have won their past two games and now have the services of the returning Joline Henry they should even do it with a few goals to spare.
The Mystics have lost their opening four games, including one to regular wooden-spooners, the Canterbury Tactix.
But despite being favourites with the bookies and the overwhelming evidence in their favour, Wilkins said the Pulse weren't a sure bet for Sunday.
"It's their home court and no-one's easy to beat on their home court,'' Wilkins said of the Mystics.
"So obviously they've got that in their control and they'll want to defend their home court and hopefully we can go up there and rock the boat and upset them because when you've had four losses in a row the team can get disjointed. So we are hoping that that's the case when we go up there on the weekend.''
Given Wilkins' sporting experience at the elite level, she knows a thing or two about not being complacent.
"It's about not looking too far ahead and I know a lot of people say that in questions around this but you have to in this competition. Just take it week by week because you don't know what's going to happen.
"You can't go in to games thinking it's alright when you haven't even started the game. So it's just about that and not looking too far ahead. Yes our goal is to make the top four and then go on to be successful but at this stage we've only played four games. There's a long way to go and this is a matter of getting the ones that we think we can get and then hammering that home.''
One of the keys to the Pulse's past two wins has been the shooting combination of Wilkins and Australian import Caitlin Thwaites.
The pair are near-on the most accurate shooting duo in the competition as Wilkins makes her goals at 91 per cent, while Thwaites drains hers at 88.3 per cent.
"I think we've come a long way,'' Wilkins said. "There's still a few hairy patches in games every now and then but you can't always have the perfect game. But we are definitely getting there and I'm starting to read where she wants the ball and her shooting's been fantastic so that helps. So the combination is looking pretty strong.''
Henry played the second half of last Sunday's 59-56 win over the Southern Steel in Palmerston North but it remains to be seen how many quarters she will log this weekend.
The Silver Fern has struggled to return to full fitness after giving birth in the off season but the Pulse are a better side with her on the court given her leadership qualities and calming influence.
- APNZ