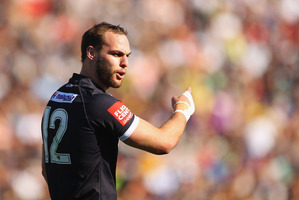 One of the most telling things said in the leadup to Friday night's Anzac test was uttered by centre Greg Inglis when he opined that integrating back into the Australian setup was like riding a bicycle.
The Kiwis think this way, too, after nearly five years under Stephen Kearney and often cite their off-field togetherness as one of their biggest strengths, but their bike is more like a Raleigh Twenty. It's not as slick as Australia's top-of-the-range racing version and might also have a couple of wonky spokes.
It's hard to argue with Inglis' assessment. The Australian players all know what they have to do and the Queenslanders among them have played alongside each other for state and country so many times they virtually know what happens next. It is, as Inglis says, like riding a bike.
The Kiwis share similarities with NSW in this respect. Whereas New Zealand have won only one Anzac test in 1998, NSW have lost the last seven State of Origin series and many can't see either statistic reversing until the combined powers of Cameron Smith, Johnathan Thurston, Cooper Cronk and Billy Slater finally wane.
The Kiwis, however, don't have that long to wait. They have a World Cup to defend later this year and need to find a way to threaten Australia.
If they come close, it will be comforting to know they did it without Sonny Bill Williams, Jeremy Smith, Benji Marshall and Sam Kasiano, who can all hurt Australia. It might even be a good thing some of that quartet aren't playing, especially Marshall, because it will force others to step up.
One of the biggest threats for the Kangaroos in this Anzac test is complacency. They are overwhelming favourites - the bookies have them at $1.14 to New Zealand's $6 - and Smith admitted they are only human.
It's why coach Tim Sheens has mentioned to his players this week events like the 2008 World Cup final, 2010 Four Nations final and 2005 Tri Nations final which were all won by New Zealand.
``You bet I do,'' he said. ``I remind them and a lot of those guys were involved in some of those [games]. That just shows that we might win a lot of games but in the big clutch games the Kiwis can come to the fore.''
In many ways, the Kiwis are like the French rugby side at the World Cup. Les Bleus rarely beat the All Blacks outside of World Cup years, but possess the ability and belief they can upset the All Blacks once at the four-yearly tournament.
France approached the 2011 Rugby World Cup in a shrewd manner, not worrying too greatly if they were beaten by New Zealand in pool play because their real target was the final should they make it. We all know how close they came to winning the big prize.
The Kiwis have the ability to beat Australia every once in a while, especially at a tournament when they can establish combinations. A defeat to Australia tomorrow night won't be unexpected but the Kiwis need to at least give them plenty to think about over the next six months.
Otherwise their bike will need plenty of work on it.
- APNZ