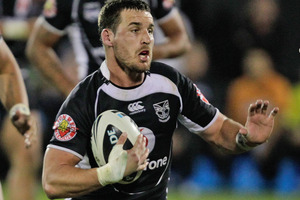 Hull have released Australian halfback Brett Seymour with 18 months left on his contract.
The 28-year-old has been battling with depression and has been on compassionate leave since being involved in a traffic accident in March.
Hull director of rugby Shaun McRae said: "Brett is at a stage where he needs to be concentrating on a number of important aspects of his life other than rugby league.
"He leaves Hull FC with our best wishes for the future.''
The former Brisbane and Cronulla halfback joined Hull from New Zealand Warriors on a three-year deal at the start of last season but has struggled to hold down a regular place in the team.
His last appearance was in Hull's defeat at Widnes on March 2.
In a statement, Seymour said: "I wish to thank all the FC fans for their ongoing support. I have never experienced such passionate, supportive people and we are forever grateful.
"Our daughter Monroe Maria was born in Hull so this city will always hold a very special place in our hearts.
"I now focus 100% on getting well. Thank you for everything.''
- AAP