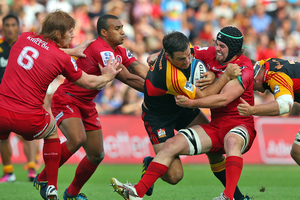 The Chiefs have often struggled in Sydney against the Waratahs, but for captain Liam Messam the match can't come soon enough.
In fact, he is happy there is a short turnaround from the dispiriting 31-23 defeat by the Reds at Waikato Stadium on Saturday as there will be less time to wait before Friday night's match at Allianz Stadium.
"The pleasing thing for us now is that we have a short turnaround and are going to a place where the Chiefs haven't done all that well, Sydney, so we've got a lot of motivating factors going into Friday night against the Waratahs," said Messam.
In eight previous competition matches in Sydney against the Waratahs the Chiefs have been successful in only one - a 28-23 victory in 2007.
Under Dave Rennie and Co, the defending champion Chiefs rarely misfire but they were outplayed by the Reds who had targeted the match as a crucial encounter.
With uncharacteristic mistakes ruining their opportunities to strike back, Messam said all they could do was try to change the momentum of the match.
"We just try to do the basics well, that's all you can do. When the pressure's on you just try to shift the momentum. It comes down to a few basic things," he said.
Patrick Osborne's cameo on the right wing, which unfortunately for him and the Chiefs ended with a strained hamstring, was one of the postives for Rennie. Osborne was the Chiefs' most penetrative back even allowing for his short time on the field, and he scored a deserved try in the absence of the sinbinned Anthony Faingaa.
"Even during the week he clearly looks like our fastest back," Rennie said. "He was exciting, that's the sort of stuff we want to see from him."
Osborne replaced Tim Nanai-Williams, who left the field after aggravating a groin problem which has been troubling him all season. Prop Ben Tameifuna was also a casualty when he hyperextended an elbow.
The Waratahs had a bye in the weekend. The week before that they looked impressive at times in their loss to the Hurricanes in Wellington. First-five Bernard Foley, who scored an excellent invididual try, and former league player Israel Folau, an outside back, are likely to be key figures for them.
- APNZ