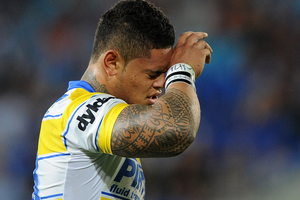 Parramatta coach Ricky Stuart's post-match tirade against NRL officials on the Gold Coast is a sign of his support for the club's players, according to backrower Ben Smith.
Stuart let rip at referees' boss Daniel Anderson following the Eels' 28-22 loss to the Titans at Skilled Park on Sunday night, claiming his young team was being singled out by referees and that the game was being taken backwards.
"I'm sick and tired of Daniel Anderson talking to my coaches during the week and saying he understands in regard to a penalty, no penalty, yet it still happens week-in, week-out," Stuart said after the defeat.
"It's only because we're a very easy team to penalise.
"It's bulls***. I just feel so sorry for the players."
Smith said Stuart's comments showed how much he cares for his players and, rightly or wrongly, the former Australia and NSW Origin coach is just sticking up for his charges.
"We back the coach," Smith said.
"He's the leader and we support everything he says in regards to us as a team.
"It (the comments) helps show us that we have his full support ... as a team, we're moving forward, and that's the main thing."
Smith said high penalty counts such as Sunday's 12-4 against the Eels could be frustrating but it wasn't a huge talking point within the playing group.
He says losing a match where the Eels held a 22-8 lead early in the second half should be of more concern.
"You do get frustrated sometimes with the penalty count when it goes against you but ... we've got to look back at ourselves," Smith said.
"There's no point carrying on and a having a whinge on the field, it just has a reverse effect I think.
"We've just got to go out there and do our job. Sometimes you get an unfortunate call, that's just the way the cookie rolls.
"The most important thing is letting a lead like that slip away, which is probably more disappointing for us from a team perspective."
- AAP