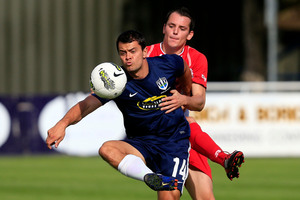 Key group B matches at Trusts Stadium on Wednesday will go a long way to deciding Waitakere United's chances of progressing in the Oceania Champions League.
Beaten 3-1 at home by Auckland City after playing out a scoreless draw with Tahitian champions AS Dragon, Paul Marshall's ASB Premiership-winning team were in danger of missing a place in the top two in group B and with it any chance of progressing.
But a hard-fought 1-0 away to AS Dragon on Saturday has given them the chance to stake a claim providing they beat AS Mont-Dore in Wednesday's late game.
City, who swamped Mont-Dore 12-2 in a record-breaking romp at Kiwitea St, face AS Dragon in Wednesday's early game before hosting Waitakere on Sunday. City complete their programme with the trip to play AS Dragon in Papeete.
Two of Waitakere's remaining three games are against Mont-Dore, who have yet to pick up a point and have leaked 18 goals in two losses to Auckland City and one to AS Dragon.
Hat-tricks to Adam Dickinson and Manel Exposito laid the foundation for City's win over the New Caledonians. Three goals in the opening nine minutes ended any challenge for Mont-Dore who trailed 9-0 at halftime. They produced a little better in the second half, scoring twice and restricting the hosts to just three goals.
"I think we played fantastically well in the first half," said City coach Ramon Tribulietx.
"We were good enough to put the first few chances away and Mont-Dore then lost the plot a little bit, which was understandable with the way we played."
Captain Jake Butler's header from a corner just before halftime was enough to get Waitakere home at Stade Pater.
Fijian side Ba and Vanuatu champions Amicale continued their domination of group A with 2-0 home wins over Hekari United and Solomon Warriors. The unbeaten teams first clash in Port Vila on Saturday with the return in Port Vila a week later.
The top two teams in each group progress to the May 4/11 home and away semifinals with the winners meeting, in Auckland, on May 19 in the final with the winner going on to represent Oceania in Fifa's Club World Cup in Morocco in December and with it a guaranteed minimum US$500,000 pay day.