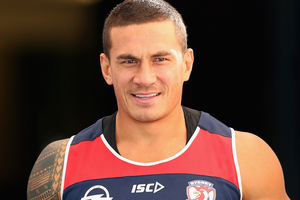 Sonny Bill Williams has caught the eye of most rugby league observers since his comeback and, crucially, Kiwis coach Stephen Kearney has been one of them.
Williams is expected to be named in the Kiwis on Sunday, assuming he's unscathed after tonight's explosive contest against the Bulldogs, the club he walked out on five years ago.
Next Friday's Anzac test against Australia will be the 27-year-old's eighth cap, although he has also played 19 tests for the All Blacks.
Kearney has been very impressed with Williams' return to rugby league and the fact he hasn't tried to overplay his hand.
"What's impressed me is that he's had a really measured approach about it and has got gradually better each week,'' Kearney said. "He hasn't tried to overplay his hand but, when he's got a bit of space, we've seen the offload he's capable of.
"For the most part, he's played a really measured role in his team and it's been a real eye-opener for me.
We all knew what he was capable when he left the game but what he's done in his comeback has been a real credit to him and I'm really pleased for him.''
Kearney isn't going to ask Williams to do anything differently in the test but thinks, with the forward pack they can assemble, it will give the second-rower chances to threaten Australia's defensive line.
Kearney is likely to name a fairly stable 19-man squad, especially with their defence of the World Cup only seven months away, and Williams is expected to be included alongside the likes of Jesse Bromwich, Jared Waerea-Hargreaves, Ben Matulino, Sam McKendry, Issac Luke, Simon Mannering and Jeremy Smith in a powerful forward pack.
The gameplan isn't likely to deviate from the past much, either. The Kiwis have lost the last four tests with Australia by an average of seven points, convincing Kearney they aren't too far off.
"We have put ourselves in the contest pretty encouragingly in the last four times we have played them,'' he said. "For me, there's not a great deal to change. It's just the important moments in the match.
"Our kick finishes haven't been as good as they probably should have and that pressure builds. Australia have a real knack in those crucial parts of the game of finishing their sets off well and mounting pressure. We just need to respond to that and do it ourselves.
"We have identified some areas of real improvement for us and, if we can get that right, then it will put us in an even better position.''
- APNZ