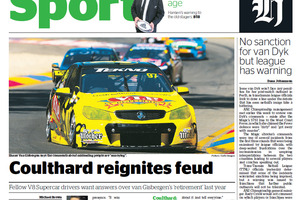 A brief look at the sports stories that are making news this morning.
IN THE PAPER
Coulthard reignites feud
Fabian Coulthard yesterday claimed Shane van Gisbergen misled people about his controversial comeback from retirement, reigniting a simmering feud ahead of the V8s' return to Pukekohe.
He said it
"I'm not just speaking for myself, I'm speaking for the whole driving group when I say something like that."
No sanction for van Dyk but league has warning
Irene van Dyk won't face any penalties for her post-match outburst in Perth, as transtasman league officials look to draw a line under the debate that has seen netball's image take a battering.
You've all been warned
A number of statements made in the media have been identified as contrary to the spirit of the competition and a reminder has been issued to all 10 teams about their obligations to the league.
Hansen knows some players will have to move on
Steve Hansen's biggest challenge during the next two years will be deciding which of his ageing warriors he casts aside ahead of the 2015 Rugby World Cup.
Kaino return?
Jerome Kaino is currently playing in Japan but Hansen said he expected to see the blindside flanker back in New Zealand at the end of his two-year deal.
Overnight news
Clarke named Wisden's best
Australia test captain Michael Clarke was named Wisden's leading cricketer of 2012, becoming only the third Australian to receive the honour.
Like grandfather, like grandson
England batsman Nick Compton was named as one of Wisden's five cricketers of the year, joining his grandfather Denis who earned the accolade in 1939.
Blair avoids ban
Wests Tigers forward Adam Blair successfully avoided an NRL ban after pleading his case in front of the judiciary on Wednesday night, providing the struggling joint-venture club with a rare boost.
More good news
He will be available for New Zealand in Friday week's Test match with Australia in Canberra.
Coming up:
Live updates of the two second leg quarterfinal Champions League fixtures from 6.45am.
Juventus v Bayern Munich
Barcelona v PSG
Gregor Paul's Super 15 Power Rankings after 12pm.
By the numbers
19 years since the New York Knicks won the Atlantic Division of NBA's Eastern Conference. They clinched their first division title since 1994 yesterday.
16years since the Warriors won in Canberra.
51 missed tackles in last weekend's Hurricanes- Waratahs match
Quote of the day
"She was trying to barge through holes that weren't there."
Fever coach Stormin' Norma Plummer blames Irene van Dyk for rough-house tactics during last weekend's controversial match.