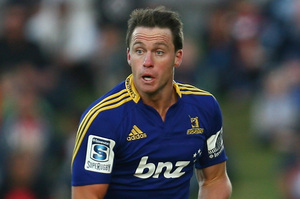 In an ideal world, Ben Smith would have made a similarly impressive start to the season wearing 13 rather than 15.
The Highlanders utility has been the outstanding fullback of Super Rugby, yet he was deemed by the latter half of last year to be the heir apparent to centre Conrad Smith.
The veteran Smith had already told the All Black coaches he would be taking a sabbatical at the end of this year. His form had also indicated that he couldn't go on forever - he began to fade after a blistering start and the urgency rose in terms of identifying a successor.
That urgency has risen to code red as, for all the All Blacks' obvious areas of strength and depth, they have suddenly run into something approximating a crisis in their midfield.
Richard Kahui and Rene Ranger are off to foreign climes and Tamati Ellison is still recovering from injury, leaving Ben Smith as a critical piece of the mid-field jigsaw. Options at centre look decidedly scarce and a serious injury to Conrad Smith will leave the All Blacks exposed.
That is why, ideally, Ben Smith would already have played six games at centre this year.
He is almost certainly going to be needed in the All Black midfield in 2013 and, as history shows, centre is not the sort of place in which a fullback can immediately find his feet. The defensive lines at centre are tough to learn. The traffic flows through that channel and it flows at speed.
No matter how good a footballer Smith is - and he is freakishly talented - it takes time at the coal face to read the angles, see the dangers and learn how to plug the gaps. There is no substitute for game time and even someone as talented as Christian Cullen wasn't able to make the transition from fullback to centre seamlessly.
The All Blacks are not fretting at this stage or making any demands of the Highlanders to switch Smith from fullback.
"It is not a concern for us that he's spending so much time at fullback," says All Black assistant coach Ian Foster. "He's doing really well and he's putting pressure on in other areas, such as fullback and probably also the wing. He could play a role for us in the back three.
"Also there are likely going to be opportunities this year at centre. We flagged it early last year that we saw him as having some potential as a centre and he came off the bench there a few times in the Rugby Championship and started against Scotland.
"Nothing has changed in that regard - we still believe he is worth invest-ing time in at centre but he has a job to do at 15 for his franchise at the moment."
The feedback from the Highlanders is that they had hoped to use Smith at centre during their campaign but injuries have prevented that. He may yet appear in the midfield if the Highlanders can finally win some games and get everyone fit.
That, despite the All Blacks' faith in Smith's ability to make the conversion on limited experience, would deliver an element of comfort. Some of the assessment about Smith is based on theory rather than definitive proof.
The All Blacks hit on the idea of using Smith at centre because they liked his footwork, timing and ability to break the line by other means than raw power. As an attacking force, he's as good as anyone in the country, delivering a potent mix of ingenuity, speed, accuracy and astute angles.
There is much about Ben Smith that is similar to his namesake Conrad and the All Black coaching panel feel that, when the former heads off on his sabbatical later this year, they have a near carbon-copy replacement.
They also hope that by the end of the year, Smith will make the decision to specialise at centre. He is only 26, but as Foster says: "There is a theory that, if you are going to be a top international centre, you are going to have to specialise at some point.
"Ben is a diligent, thinking rugby player and he learns well, reads things well and he can adapt.
"He is lucky that he can play in so many roles and I think he enjoyed playing centre last year.
"Opportunities to play there this year may well come up and, if he looks good there, then I think it will encourage everyone to come up with a decision about his future."