Pushing, supporting and motivating each other all part of the challenge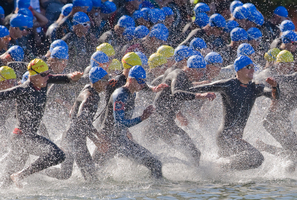 More than 2000 athletes will converge on the Blue Lake next Saturday for the Xterra Rotorua Festival.
The festival is one of the single biggest multisport events in the world and is part of the Xterra Global Tour, which host events in 17 different countries.
Over 10 years, 237 athletes have gone to the Xterra World Triathlon Championships after qualifying at the Paymark Xterra Rotorua Festival.
It offers not only an individual and team triathlon, but a 5.5km, 11km or 21km run or walk, as well as a 26km mountain bike race.
While the professionals are out there battling themselves and each other for the title, there will be thousands of others taking part.
Tuakau couple Steve and Julie McDonald are competing in their ninth Rotorua Festival together. Steve will be running his 95th half marathon and Julie her 45th.
"Every time we compete together is special," said Steve, a 49-year-old lecturer. "Pushing, supporting and motivating each other and finishing together are part of the great challenge of the Xterra Half Marathon. It is the best feeling, running with your partner and best friend."
Steve said the scenery around the Blue Lakes in Rotorua is spectacular, but just as much of a drawcard is the attitude of the athletes.
"Running with like-minded people and meeting all sorts is always part of the attraction of this event. We love to encourage other runners and be encouraged, and also be inspired by others. Achieving our goals and reaching a target time is always a thrill."
It is all a long way from where their running career began. Steve started running track and cross-country at intermediate school, then progressed to his first half marathon in Christchurch in his first year at Lincoln University as a 20-year-old.
"I loved the challenge of the longer distance races and the endurance necessary to complete these. I have completed six marathons, but prefer the half distance."
Meanwhile Julie, who began running in 2001, was a late starter.
"I hadn't come from a running background so I started training as a beginner," said the 47-year-old, who works as a credit controller.
"It was a huge challenge and I couldn't get my mind around how I could ever run more than 1km, let alone 42km, but having a programme, a goal and a buddy to run with made this very achievable. I enjoy the half-marathon distance as it is achievable."
Now the goal of completing 100 and 50 half marathons for Steve and Julie respectively is very much achievable as well.
"That is our goal [100 and 50 halves] and we are aiming to do this at the 2014 half marathon," said Steve. "But the ultimate goal is to keep running together for as long as we are physically capable. Keeping fit and including fitness as an integral part of our lifestyle is also important and the long-term goal."
Xterra is about everyone living a little more, getting out there and giving it a go. This fitness driven couple offered some advice for newcomers to a half marathon.
"Most importantly, enjoy the event, the scenery and the people. Be inspired by others and give it a go. We really enjoy the half marathon distance because it is achievable and easy to train for. As we have got older, it seemed sensible to run more off-road to prolong our running life, than always pounding the pavement."
Xterra Rotorua l
When: Saturday, April 12
Where: The Blue Lake, Rotorua.
Event options: 5.5km, 11km or 21km run or walk. 26km mountain bike. Individual or team triathlon.
Xterra is the fastest-growing multi-sport event in the world and has more than 100 races around the world, consisting of trail walks, trail runs, mountain-bike events and triathlon-style swim, mountain bike and trail-run events for individuals and teams.
The Xterra Global Tour makes stops at 16 national championship races around the world on its way to the Xterra World Championship in Maui, Hawaii each October. Over the 10 years, 237 athletes have gone to the Xterra World Triathlon Championships after qualifying at the Paymark Xterra Rotorua Festival.
For more information: www.xterra.co.nz