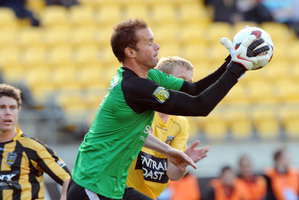 Wellington Phoenix goalkeeper Mark Paston has announced his retirement from professional football following this afternoon's A-League game against the Melbourne Victory at Westpac Stadium.
The 36-year old says he is leaving the door slightly ajar when it comes to his All Whites career, saying he'd like to finish at the World Cup next year, but that is some way off.
"It would be nice to finish my international career at the 2014 World Cup finals in Brazil but that is some way off," Paston said.
"I will take a few months off and re-evaluate a few things. I'll worry about that later though. I just need time off at the moment."
Paston will be best remembered for his heroics in helping the All Whites get to the 2010 World Cup in South Africa and his performance at the tournament.
His penalty save against Bahrain in Wellington in 2009 earned New Zealand a spot at the World Cup and he further etched his name into Kiwi footballing folklore by pulling off a string of memorable saves to help the All Whites finish the tournament unbeaten.
But several serious injuries have interrupted his career and the wear and tear on his body and his young family were both factors in his decision to retire.
"As you get older you start thinking about the following season earlier and earlier," he said.
"It is hard to explain, but you start to wonder if you have it in you to go into another season.
"I'm the sort of guy for who it is all or nothing, and if I don't think I can give it everything I don't see the point of carrying on in the professional sense.
"My body isn't getting any younger and I tend to get to about December and it starts to seize up a bit. That is another sign it is about time to give it up because I can't just turn up and go through the motions.
"It is all or nothing for me and as a goalkeeper at training there is no place to hide."
-nzherald.co.nz