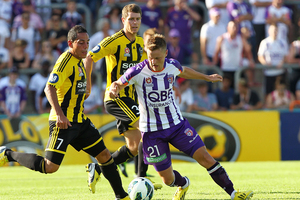 The only thing certain for a lot at the Wellington Phoenix is their season concludes on Sunday with a visit of the Melbourne Victory.
It brings to an end a season of terrible under-achievement after high expectations and one that also claimed a casualty with the resignation of Ricki Herbert as coach.
The biggest goal on Sunday is getting some sort of result that propels them ahead of the Melbourne Heart on the ladder and means they avoid the wooden spoon. The two teams are locked on 27 points with one game remaining but the Heart, who take on Central Coast this weekend, have a significantly better goal difference.
Wellington have received more than 200 applications for the vacant head coach's role and after a period of will he or won't he, interim coach Chris Greenacre decided against applying for the top job.
"I have absolutely loved the role [as caretaker coach] and it's been a massive learning curve but I still need to work on being a good coach," he said.
"If ever an opportunity came up to be a head coach here or elsewhere I would love to do it.
"That's something that is quite far down the track. I really want to earn my stripes first. I have only been in charge for four or five games and there's not been a lot of pressure on me because of the position we have been in. A head coach has to deal with that pressure from the start. I don't think I'm ready to do that yet."
Greenacre would dearly love to stay on as assistant coach but that decision will by up to whoever is appointed head coach. Failing that, Greenacre is keen to remain at the club in some capacity, with the academy a possible avenue.
"I hope I still have a future at this football club," he said. "This is where I want to be. The club is going places and I really want to be a part of the future.
"I haven't looked [into alternatives]. I will deal with that when and if it comes. If it does happen, it's something I have to deal with. It's the nature of football. I could be out of a job next week. The whole backroom staff could be out of a job."
So could many of the players.
As many as 11 players are off contract at the end of the season and, like Greenacre won't know their futures until a new coach is hired.
The number includes Tony Lochhead, Leo Bertos and Mark Paston along with Alex Smith, Dani Sanchez, Ian Hogg, Lucas Pantelis and Jimmy Downey.
Andrew Durante, Ben Sigmund, Jeremy Brockie, Glen Moss, Louis Fenton, Tyler Boyd, Paul Ifill, Stein Huysegems, Manny Muscat, Vince Lia, Michael Boxall and Cameron Lindsay are contracted for next season.
It has been a difficult period for many of the players and preparations for their last match have been interrupted with so many on international duty. Greenacre had only six players to work with at one training session this week. At another there were only four.
Lia (toe), Isaka Cernak (groin), Moss (knee) and Lochhead (fractured leg) are all out but Fenton and Boyd return after helping the Junior All Whites qualify for June's Under-20 World Cup.
"We certainly don't want to finish bottom of the league," Greenacre said. "We want to build on the last three or four weeks. It would be a shame to roll over and die against a quality Melbourne Victory side."
- APNZ