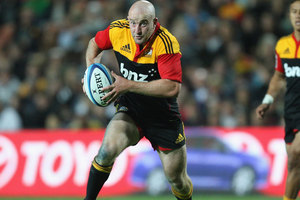 Chiefs halfback Brendon Leonard has timed his return from injury perfectly following Tawera Kerr-Barlow's broken jaw, but now wants regular game time or he is likely to join a growing number of team-mates heading overseas.
Leonard will play against the Blues at Mt Maunganui on Saturday night - probably off the reserves bench behind Augustine Pulu, which is fine by him, but longer-term the former All Black has decisions to make.
Richard Kahui and Lelia Masaga have confirmed they are off to Japan, in the latter's case Honda for two years, and co-captain Craig Clarke is moving to Ireland. Now the Chiefs are in danger of losing another experienced operator as Leonard, who played 13 tests for the All Blacks after making his debut in 2007, is off contract at the end of this year.
The 27-year-old would do well in the less physical Japanese competition after several injuries over the past few seasons - his latest was a broken cheekbone suffered in a head clash in the Chiefs' first pre-season game, but said he was keen to stick around if wanted.
"My contract runs out at the end of this year and it's a case of putting my best foot forward for the Chiefs,'' he said. "Hopefully I can stay around. It is a little out of my control in some respects. It's a matter of getting consistent game time and showing my value here at New Zealand rugby. I'd dearly love to play more seasons with the Chiefs.''
Leonard's enforced break has been a frustrating one and mirrors last year, when he tore a hamstring in round one, also against the Highlanders, and was out for eight weeks.
"It's been a long six weeks with plenty of running,'' he said. "I've tried to look at it positively and see it as an opportunity to get fitter. I've been Richard Kahui's tackle bag while the boys were in South Africa, which was exciting,'' he deadpanned.
"It's obviously bad luck for Tawera ... but [my return] is good timing. We'll have two good halfbacks stripping up again this weekend.
"I've been doing plenty of contact so I'm happy with where my mindset is in terms of that area.''
Leonard was impressed with the way his tired teammates withstood a torrid first half from the Highlanders in Hamilton last weekend to grind out a 19-7 victory, but is expecting improvements for the Blues, who are performing, like coach Sir John Kirwan promised, with the trajectory of a roller coaster.
"We missed a few opportunities in that second half to score a few points and put the game out of reach but they had a few chances themselves,'' Leonard said of the Highlanders match. ``There were some desperate tackles on the line to deny them. Obviously the effort and desire was there so we just have to make sure the skill level matches that.
"Chiefs v Blues games are always evenly contested and pretty physical. I remember for a few years with the Chiefs we languished at the bottom of the table and the Blues were riding high but we managed to go up there and beat them a few times and I guess that has taught us a lesson.''
- APNZ