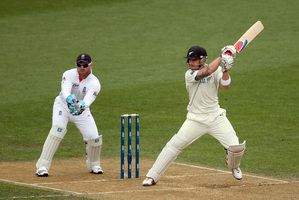 New Zealand put their initial advantage over England on term deposit rather than investing it in blue chip shares on the second day of the final test.
Their middle order batting was competent enough to take them to 443 but losing their last nine wickets for 183 runs meant they missed a prime opportunity to power past 500 for the first time since February 2010 against Bangladesh.
Drifting too often onto English pads and bowling too wide outside off stump made rich attacking fields of up to four slips and a gully largely redundant as England made 50 for two. Still, there was no hint of a stock market crash.
The Mike Hesson- and Brendon McCullum-led regime again hinted they have made mental and technical strides since the horrors of South Africa and Ross Taylor's ugly exit as captain.
McCullum, Dean Brownlie, BJ Watling and willow-wielding enigma Tim Southee each contributed to an innings perfectly set up by the top three at 260 for one when Kane Williamson edged behind early.
Cricketer of the year Martin Guptill is going to have to find a skeleton key to unlock a place in the test middle order for the England tour. Brownlie is perhaps most vulnerable but showed enough promise with 36 to keep his place. Those with short memories might recall he was the only player to score a test century in South Africa where he also topped the averages. The downside was that no one after Williamson topped 50.
A couple of jittery moments saw the innings teeter at 297 for four with the dismissal of Peter Fulton for 136. McCullum and Brownlie meshed together a 68-run partnership to garner respectability. Southee and Watling reinforced matters with 51 runs for the seventh wicket. This was passive-aggressive batting. Watling grafted to 14 (strike rate 29) as part of an eventual 21 while Southee blasted to 44 (strike rate 138). Southee dealt to Stuart Broad as if he was wearing coloured clothing.
England forced their way back into the match but there were no "Eureka!" moments. The Barmy Army trumpeter has played the Blackadder theme during this test but it remains unclear whether Alastair Cook can muster up any plan of Baldrick-like cunning. England's best effort came in the opening session. They took three wickets for 62, alleviating Friday's damage. The hosts briefly lost momentum through the dismissals of Williamson for 91, Ross Taylor 19 and Fulton 136.
It's the first time Williamson's been out in the 90s during his test career. Previously his highest score without progressing to a test century was 77.
Also rare was Williamson's indecision. He did not take an emphatic step forward before the ball seamed away. That contrasted with the rest of his batting during the series where positive defence has been a hallmark.
Williamson's partnership with Fulton for the second wicket was worth 181. Backing up other second wicket partnerships of 91, 42, 56 in this series it underlined the fact Taylor has not come to the wicket before the 16th over, another tick in the New Zealand batting improvements column since South Africa. The hosts have been helped by useful batting wickets but they're still facing arguably the world's second-best attack.
Fulton's was the most spectacular dismissal. He struggled through the morning, adding 12 runs from 69 balls to his overnight score of 124. He helped a Steve Finn delivery down the legside, only for wicketkeeper Matt Prior to leap and snaffle the catch. Finn equalled his best figures in an innings with six for 125 while Prior took five dismissals in an innings for the fifth time.
"I've bowled better in this game than I did in the previous two," Finn said. "My lengths have been fuller, making the batsman come forward more often."
One area worth watching today will be how Bruce Martin bowls into the footmarks that will be created by left-arm bowlers Neil Wagner and Trent Boult. Their follow-throughs could provide something where Martin can get the ball to grip against the six remaining right-handers in England's top order.
Williamson holds high hopes for Martin today: "There is a little bit of bounce there and if you hit the wicket you'll get as much as you can out of it. Bruce bowled really well towards the end this evening so hopefully he plays a big part."
Trent Boult was the best of the New Zealand bowlers claiming two for 26 from 10 overs.