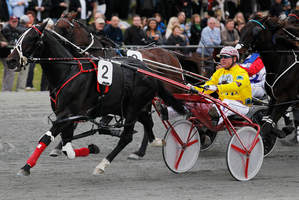 It is a glamour race and would be a big help in getting broodmares ... in Aussie so we are definitely aiming at it.Paul Court, co-trainer The connections of New Zealand's best pacer know they have unfinished business in Australia.
So dual New Zealand Cup winner Terror To Love is being set for a tilt at next month's Miracle Mile which could have crucial implications for his breeding career.
The millionaire pacer was a costly failure in the Interdominion Final at Menangle two weeks ago but bounced back with a luckless second to Themightyquinn in last Friday's Auckland Cup.
His Menangle defeat was his third in as many starts there and raised questions over whether he would return there for the Miracle Mile or stay home for the Taylor Mile at Alexandra Park the same weekend.
But co-trainer Paul Court says the men behind the great pacer know he needs a major Australian victory to help his stud career.
"Winning the Miracle Mile would be worth more to him than just the stake," Court told the Herald.
"It is a glamour race and would be a big help in getting broodmares in the future in Aussie so we are definitely aiming at it."
Court says Terror To Love has come through his rugged week well and will contest the Easter Cup in a fortnight. Then he has to run in at least one of three Miracle Mile lead-up races in New South Wales in April to be eligible for an invite to the A$750,000 ($948,000) sprint.
Only defending champion Smoken Up is guaranteed a start in the eight-strong field, with the balance drawn from horses who contest the lead-ups.
"We got that clarified this week and we are fine with that," said Court.
"Now we know where we stand he will most likely contest the last prelude a week before the Mile."
While no Miracle Mile invitation is set in stone, Terror To Love would only need to start in one of the preludes and perform even moderately to get an invite.
With his Interdom conqueror I'm Themightyquinn spelling and Smolda out injured, Terror To Love heads the early Miracle Mile markets alongside fellow Kiwi star Christen Me.