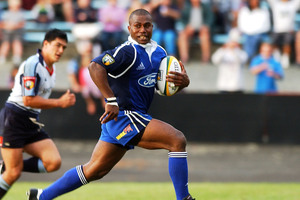 The scan on Rupeni Caucaunibuca's knee was encouraging. The size of his waistline isn't.
But despite the former Blues and Fiji international carrying an impressive 119kg, Northland have signed him for this year's ITM Cup.
Just what exactly they have bought is hard to tell. In 2003 and 2004, Rupeni was the best wing in the world. He was probably more than that. In those two years he played in New Zealand he did enough to be considered one of the greatest wings to ever play the game.
His speed testing records still haven't been beaten at the Blues. In fact, no one in New Zealand has even come close. Joe Rokocoko, rightly dubbed the 'Rocket Man', was a cart-horse by comparison.
Rupeni left seriously good test operators such as Joe Roff, Chris Latham and Clyde Rathbone looking almost laughably bad at various times. In the 2003 Super 12 semifinal, he scooped the ball from the sodden turf with one hand, refusing to break stride before meandering his way past five defenders for the defining try of the campaign.
He went to the Rugby World Cup with Fiji later that year and carved up France and Scotland despite being a good 10kg overweight following an extended injury break.
Sadly, Rupeni being drastically overweight became the norm. His life off the field has been impossibly difficult to fathom. It has often taken the path of a bad soap opera. He's gone missing at various stages; his passport has gone missing at others; there has been a drug ban, multiple fall-outs with his former club Agen and perhaps not surprisingly, he's reached this stage of his career on the verge of financial ruin.
"It's fair to say he doesn't have much left," says Northland chief executive Jeremy Parkinson. "Pretty much everything has been squandered, so we haven't had to pay too much to get him. He is 119kg and has been playing at that weight for a while. But we think we can get him fitter and get his weight down. He'll be on a programme and we aren't putting any targets in place but we'd like to get him down to 110kg or maybe even 105kg."
It will be another month yet before Rupeni is able to begin playing for club side Awanui in the Far North. He is still recovering from knee surgery but the surgeon's report on Friday was encouraging, suggesting the joint is on the way to making a full recovery.
It may appear that the Taniwha have taken a major risk in Rupeni, but there are several factors that they believe have to be considered. Firstly, Rupeni sees Northland as his spiritual home. He was playing there in 2000 and 2001 when he was first 'discovered'. The lifestyle suits him and when he last played there, he was able to maintain his fitness.
Secondly, he accepts this is his last chance to salvage something financially. If he can impress with Northland, there's a chance he'll be picked up by a club with deeper pockets: Japan or Europe, or even a Super Rugby team - it won't matter. Rupeni is 32 and he wants one last contract so he can retire with some kind of financial security.
And, perhaps less comforting but valid all the same, is that in 2011 Rupeni was holding a starting place in the star-studded Toulouse side. He'd been drafted in as a medical joker and even at 120kg, was able to make an impact. He scored two tries in the semifinal of the Top 14 playoff and was outstanding in the final, which Toulouse won.
"If we can get him back to even 80 per cent of his ability we will have an outstanding player," says Parkinson. "But it's up to Rupeni. He needs to get fit and stay fit and then play at the level he knows he can."