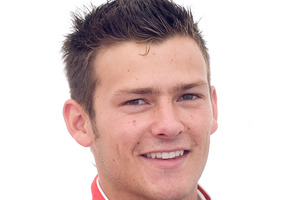 Ant Pedersen took his second straight BNT V8 SuperTourer pole position at the Mike Pero Need for Speed meeting in Christchurch with a blistering lap that was too good - just - for V8's men of the moment Shane van Gisbergen and Greg Murphy.
Clipsal 500 winner Shane van Gisbergen will start second, Daniel Gaunt third, Scott McLaughlin fourth and Greg Murphy fifth. The first 18 cars were covered by a fraction over one second.
Virtually all of the drivers had two runs on new tyres in the 20-minute session, and Pedersen's pole lap was set on his first set of new tyres. His 1.23.316 was 1.3 seconds faster than Scott McLaughlin's pole position lap recorded the last time the SuperTourers visited Christchurch in November.
"I'm not too sure where we are finding the speed but the car just feels good everywhere," said Pedersen, who has one V8 SuperTourer win to his credit. "We were fast last year but we had a few things go wrong. This time around we have all of the basics working well and I'm happy with the way the car is working for me - the balance, the tyres, the braking, it's all how I like it.
"To be ahead of Shane and Greg feels good. Really good."
Van Gisbergen was on the pace throughout the qualifying session and on his second set of tyres got to within just four-thousandths of a second of Pedersen.
Daniel Gaunt was again on the pace and lines up third ahead of a resurgent reigning champ Scott McLaughlin, who overcame a minor electrical glitch in the morning's practice session to push his car to the front.
Round One winner Greg Murphy completed the top five, and looked the most consistent having been at the sharp end in both of the practice sessions before qualifying.
- APNZ