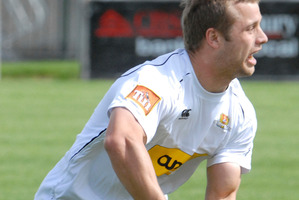 An eligibility wrangle surrounding former Crusaders and Hurricanes halfback Tyson Keats has cost London Welsh five competition points and the club now face a fight to avoid relegation from English rugby's top division.
London Welsh were fined 15,000 (NZ$27,200) and slapped with the five-point deduction for fielding Keats for 10 of the team's league games this season when he wasn't eligible to play.
The 31-year-old joined London Welsh from now-defunct Italian club Aironi but didn't hold the correct visa, meaning he wasn't properly registered for the matches in question.
The club are now bottom of the English Premiership, two points behind Sale with five games remaining.
London Welsh, which has former Wales back Gavin Henson among their playing squad, brought the matter to the Rugby Football Union's attention after conducting an internal investigation. The club plans to appeal.
"London Welsh are hugely disappointed and shocked by the ruling made by the RFU hearings committee, which we believe is extremely harsh under the circumstances," London Welsh chief executive Tony Copsey said.
"It is our belief the ruling is fundamentally flawed."
Jeremy Summers, who chaired the hearing, said it was "an extraordinary case, and one that it is hoped will never be repeated."
- APNZ