Flanker who 'hasn't done anything' has his head down for some hard work to deliver consistency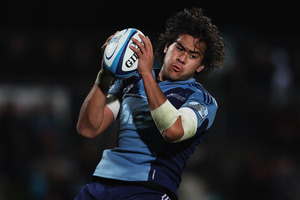 In his summer recess, Steven Luatua punished himself. If he felt he hadn't done enough training, he would head out on a 10km run through the pain barrier.
He figured if he could build up his endurance, training with the Blues would be easier.
"I came back here," the Blues blindside flanker said, motioning at the training ground, "and still got smashed."
Luatua is much fitter than last season when he was drafted in from the wider training group. He has topped his personal best in repeat sprint tests and is ranging about the field at 113kg.
That health has given him an extra mental weapon as he works on filling the roles Jerome Kaino and Chris Lowery did for the Blues before heading for Japan. Two games and two victories have lit up the public passion although Luatua and his buddies haven't been overtaken by the hype.
"We haven't done anything yet, I haven't done anything," he said.
"We just have to keep grounded and listen to the coaches who are asking for consistency."
Balance is another strong concept for Luatua. He began to understand that at Mt Albert Grammar before settling into the routine when he entered the Blues academy.
When his rugby duties allow, Luatua is studying papers for a Bachelor of Sport.
"I'm convinced you have to do things outside rugby and my definition of success is to have a life balance.
"As much as I might have a decent game of footy I don't consider I'm a success unless I'm doing well in the classroom too. That idea comes from my family and I pushed that at school."
The instruction is coming in heavy dollops in the Blues classrooms and out on the field. They are working to an uncluttered game plan but have to get it right.
It requires patience, and there's a heavy onus on the pack to lay the groundwork for the backline talents.
"We can't think we can just give them the ball to work some magic, we have to work hard to create the sort of mismatches they can use," Luatua said.
He and the new group are finding their voice more now, asking more questions if they're uncertain about tactics. Initially, many of the new faces were intimidated by John Kirwan, Mick Byrne, Grant Doorey and Graham Henry's pedigree.
Now they are inquiring and learning more.
"I'm getting lots of detail from Ted [Henry] on defence. Most of the stuff is about leg drive in the tackle and getting my body down and in the right position.
"Mick [Byrne] looks at new ideas for jumping in the lineout and running support lines. Then there are things I haven't thought about in the past like kicking - how you do it, when to do it and what distance you're looking for."
Luatua began rugby as a 5-year-old and always followed the performances of his father for Te Papapa, Suburbs and Roskill clubs.
He was "the man" for the young Samoan flanker, who's now starting to create similar impressions for the Blues.