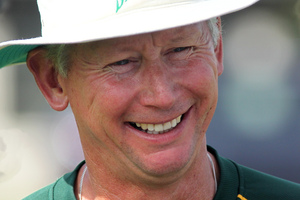 Central Districts cricket coach Alan Hunt is stepping down at the end of the season.
Former Auckland batsman Hunt has been in charge of CD for three seasons, which included a trip to the Champions League in South Africa, and victories in the Plunket Shield this season, the 50-over Ford Trophy last summer and making the HRV Cup T20 final in 2010-11.
"I have looked at what I have achieved in my time and think that it is the right time to pass the baton onto someone else and explore other opportunities," Hunt said.
Central Districts chief executive Hugh Henderson said the province is finalising its CD Wide Cricket Plan and wanted the coach to be there for the next two or three seasons to implement it.
"In talking this through with Alan we agreed that this would be too long in the role for him to commit to, and that it was better to make the change now," Henderson said.
The role will be advertised in the coming weeks.
That makes two of the country's six major associations looking for new coaches for next season. Auckland's Paul Strang has stepped down after four years in the role.
Auckland Cricket are advertising the job at the end of the season, as are CD.
- APNZ