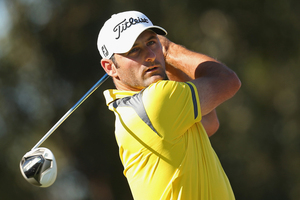 Michael Hendry will have a host of good memories to call upon if adversity strikes at the NZ PGA Championship this week.
The defending champion was in a relaxed mood on the eve of his title defence at The Hills and said having played so well at the course last year gave him confidence this time around.
"Any time that you come to a golf course that you've had success round it probably puts you a little bit at ease and just being able to recall good memories of shots in particular areas and things like that probably enables you to play the course a little bit better than others at times," Hendry said.
"So I suppose good memories feed through your game and give you a little bit more confidence when you're playing."
As last year's winner, Hendry acknowledged there was an element of expectation hovering over him this week but said he was more focused on how he played rather than etching his name on the trophy again.
"I think people always put a little bit of extra pressure on you when you're coming in to an event that you've won before. But if I play well I'll be happy. If I don't I obviously won't be happy. So it's like any other week, really. I'll go in and try and play as well as I can and if I do I'll be happy with that. If that means I win, great. If that means I come 10th, well that's fine as well."
Hendry brings some decent form with him in to the week having already recorded two top-five finishes in Australia this year.
He will play his opening round tomorrow with Australian Michael Sim and Japanese Tour professional Toshinori Muto.
Following on from Queenstown, Hendry will line up at the WGC-Cadillac Championship in the United States next weekend, a start he earned courtesy of finishing second on the money list on last year's Australian PGA Tour.
The event looms as the biggest tournament of Hendry's career and the 33-year-old would love to head stateside with another NZ PGA title under his belt.
Hendry leads a strong Kiwi contingent in this week's tournament at Sir Michael Hill's private course, including Mark Brown, Josh Geary, Gareth Paddison, Ryan Fox, Steven Alker and Phil Tataurangi.
Alker won the event in 2009, while Brown and Paddison have been consistent on the Australian PGA Tour during the past six months.
Australian Brendan Jones is the highest-ranked player in the field with a world mark of 82, while Muto is the world No 124.
Muto has also received some support in the betting market and after opening at $200 to win the tournament the five-time winner on the Japanese Tour had backed in to $50 as of this afternoon.
Other notable Australians to look out for include Nick Cullen, Matt Giles, Steven Jones and Stephen Dartnall.
- APNZ