Black Sox have defence and batting skills but are sorely short of good pitchers.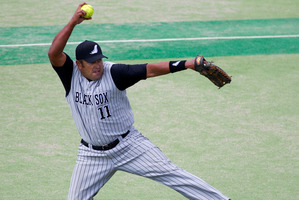 There was a time when New Zealand's softball pitchers were sporting household names, led by the legendary Kevin Herlihy.
Michael White, Steve Jackson, Chubb Tangaroa, Peter Meredith, Marty Grant ... to name a few. An indication of Kiwi pitching strength was the calibre of throwers who sometimes got left behind.
But when the Black Sox launch their bid to reclaim the world title at Rosedale Park, beginning with their match against Mexico on Friday night, pitching shapes as a potential Achilles heel. Indeed, it is a couple of the visiting teams, led by the world champion Australians, who will arrive with the speedball firepower.
Adding to the sense of concern, the Black Sox unveiled the 40-year-old star veteran Jarrad Martin as a pitching option when they beat the Czech Republic 4-3 in a practice game at Penrose yesterday. Catcher Aaron Stroman-Neemia's home run led the way. But after a five innings shut out from Heinie Shannon and Nik Hayes, Martin came on with the score at 4-0 and gave up a home run.
The Black Sox' big pitching hope is the Illinois-based Jeremy Manley, but he arrived underdone after a knee clean-up operation. To get him into shape the Black Sox have left Manley in games during a tough warm-up campaign that included a few defeats, but he is still battling to find rhythm.
Shannon had to claw his way back bravely from a major shoulder problem, and the battery is completed by Hayes and Penese Iosefo, world championship rookies in the highly promising category.
"There has been a 10 year hiatus in the pitching - it's a bit of a lost generation" admits Black Sox coach Eddie Kohlhase.
"The same thing can be said in women's softball, after Gina Weber and Cheryl Kemp were absolutely world dominant.
"I think we rested on our laurels. As a sport we didn't do the hard yards. We didn't go out there and find and develop the talent."
Martin started his career as an outstanding pitching prospect but after an operation to repair a hole in his heart, concentrated on becoming a world class hitter from first base. He has been rolling the arm over for Poneke-Kilbirnie this season and is, through necessity, a world championship option in a unit that will have to pitch to a plan and cut down on home runs conceded.
If New Zealand can limit their opponents to the ground balls, they have the defence and batting to do the job. But there can hardly be great confidence and the Black Sox fortunes are resting heavily on an unknown and injury-affected quantity in the New Zealand softball team - the men on the mound.