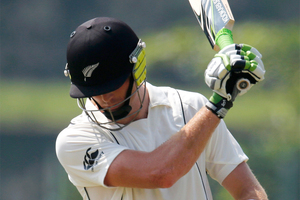 New Zealand opener Martin Guptill is out of the England test series.
A ligament injury to his left thumb which needs surgery has sidelined him, and left New Zealand with a major headache ahead of the first test in Dunedin, starting on March 6.
With captain Brendon McCullum set to drop into the middle order, New Zealand will be naming two new openers when they reveal their 13 for Dunedin on Sunday morning.
Guptill, 26, strained a hamstring during New Zealand's three-wicket ODI win in Hamilton last Sunday, but that wasn't the major problem. He had damaged the thumb at training earlier in the English tour, but medical staff kept mum on the situation while a full assessment was done.
"Martin is going to have surgery next week," team physiotherapist Paul Close said tonight. "We are targeting him returning for the England-away series [starting in May]."
Close said Guptill could continue playing with the injured thumb in the short term, but "we felt it was best to get Martin right for the tour to England in May and June, so the next couple of months were seen as the best window to have the surgery".
The NZC management's reluctance to discuss Guptill's fitness all week led to speculation his situation was more serious than initially thought.
Canterbury veteran Peter Fulton, who has had an Indian summer in this season's Plunket Shield, with 883 runs at 55 so far, is expected to get one spot.
Guptill's form against the white ball has been strong - as evidenced by his equal-third world ranking in the T20 game - but his test numbers have been ordinary of late.
Still, given the reworking of New Zealand's top six he was sure to be retained for Dunedin.
Options to replace Guptill include promoting wicketkeeper BJ Watling (unlikely), persuading McCullum to stay at the top as a short term fix (highly unlikely) or introducing a second new face.
Candidates must include seven-test veteran Aaron Redmond, who hit a timely 152 for Otago against Wellington at the test venue, University Oval, yesterday.
Unwanted for five years since hitting 83 against Australia at Adelaide, then playing a daft shot in the second innings when New Zealand were battling to save the test on the final day, Redmond is the only player ahead of Fulton on the shield run list this season.
The 33-year-old - one year younger than the tall Cantabrian Fulton - has made 936 runs at 58.
Coach Mike Hesson, who is also one of the two selectors with Kim Littlejohn, was emphatic in South Africa, where Watling was New Zealand's most technically adept batsman in a two-test mauling, that the Northern Districts man would stay in the middle order and deserved a chance to nail down that spot.
However, the selectors will need to have a hard think about whether they should put him back where he began his test career and introduce uncapped Australian Luke Ronchi.
The former limited-overs international in the green and gold is widely regarded as the slickest gloveman in the country, and is an attacking, highly capable batsman.