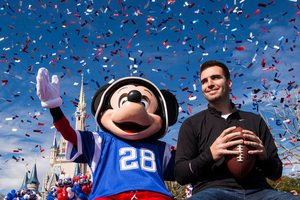 Joe Flacco has his Super Bowl MVP trophy and his first NFL championship ring and now the Baltimore Ravens quarterback says it is time to negotiate a new contract.
"I'm pretty optimistic," Flacco said. "There's all kinds of crazy things that can happen with these contracts that we've all seen before, but this is a great organisation."
Flacco, whose contract expired on Monday, won the Pete Rozelle Trophy as he led the Ravens to their second Super Bowl title in franchise history with a 34-31 victory over the San Francisco 49ers.
Understandably, Flacco said he didn't get much sleep after the game but it was worth it. "I got about a hour and a half [sleep]," Flacco said yesterday. "I'm pretty tired right now. No, it hasn't sunk in yet. It's just a surreal moment, and hopefully in about a week we can wind down and start to enjoy it a little bit."
The Ravens talked about being a team of destiny and they backed it up by overcoming a late surge by San Francisco and a power failure at the Superdome to win Super Bowl 47.
Flacco's newfound celebrity status didn't take very long to kick in either as immediately after winning his first Super Bowl ring, Flacco took in one of the lavish post-game parties with his family, where he met Jay-Z and Beyonce.
Flacco threw three first half touchdowns and Jacoby Jones returned a kickoff 100m to open the second half for the Ravens who won their first Super Bowl in 12 years.
Flacco completed 22 of 33 passes for 287 yards and three touchdowns with no interceptions, becoming just the sixth player in NFL history to throw three or more touchdown passes in the first half of a Super Bowl.
The numbers are impressive and it should result in a multi-million dollar new contract for Flacco who has been in talks for several months with Ravens' owner Steve Bisciotti about a new deal. "I love being [in Baltimore], great city, so I don't really anticipate any problems."
Monday's game included a power outage that delayed the game for 34 minutes in the third quarter.
The Ravens had a let down after the lights came back on, coming close to squandering a 22-point lead before holding on for the win.
NFL commissioner Roger Goodell said the league was still investigating the cause of the power failure which was originally blamed on an overloaded breaker switch.
-AAP
Play Virtual & Fantasy NRL
Test your tipping skills with Virtual or create your dream team with Fantasy NRL and be in to win a slice of over $7,000 in prizes.
Get in the game and sign up now.