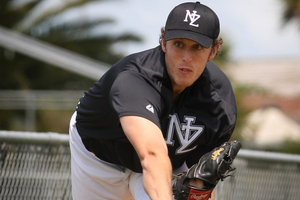 New Zealand baseball pitcher John Holdzkom will lead the Canberra Cavalry's charge towards the Australian Baseball League championship final.
The 2.01m-tall Holdzkom has played an integral part in leading his Canberra team to first place and the right to host the championship series against Perth Heat in the Australian capital this weekend.
Perth swept Kiwi slugger Boss Moanaroa's Sydney Blue Sox in the championship play-off in Sydney last weekend after finishing just behind the Cavalry in the regular season.
Holdzkom has been the Cavalry's main pitcher this season after being picked up by the franchise following stellar outings for the Diamondblacks at the World Baseball Championships. Although American by birth, Holdzkom qualified for the New Zealand team through his Kiwi father and was one of the leading pitchers in the ABL, starting 10 games and collecting a 4-3 win-loss ratio and an Earned Run Average of 4.10, placing him among the top 15 starting pitchers in the competition.
Baseball New Zealand chief executive Ryan Flynn believes more Kiwis can use the ABL as a stepping stone to professional organisations in Asia and the USA as well as college opportunities in North America.
He said it was imperative that the sport's governing body aimed to get a New Zealand franchise into the ABL as soon as possible.
- APNZ