Eventing wants to build on London's bronze medal, with an eye on more at Rio.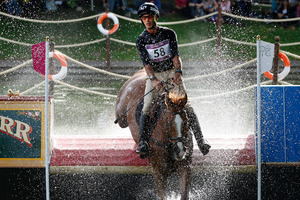 The 2016 Rio Olympics are on the minds of Equestrian Sports New Zealand, who today announce their new high performance eventing squads.
On the back of the bronze medal-winning team effort at the London Olympics, the discipline has received more money from Sport New Zealand, and a renewed confidence that the high performance programme is on the right track.
ESNZ high performance director Sarah Harris says there is no time for complacency and the stringently-selected squads include only those combinations with the potential to produce an individual podium result at the Rio Olympics.
Leading the way is the world's No 1 ranked rider Andrew Nicholson who has six horses on the squad, along with the fourth-ranked Jonathan Paget with three horses and sixth seed Sir Mark Todd who is also on with three horses.
Rounding out the squad are London Olympics teammates Caroline Powell and Jonelle Richards, along with world champs team-member Clarke Johnstone and London Olympic reserve Lucy Jackson.
Powell's double Olympic horse Lenamore is not on the squad. The selectors are not considering him for Rio, but the 20-year-old is likely to be competing at Badminton this year.
Four up-and-coming riders - Jesse Campbell, Joe Waldron, Lizzie Brown and Tim Price - are named in the high performance eventing accelerator.
"The squads reflect a realignment of our programme through to Rio," Harris said. "We want to be continually pushing to be better with a world-leading programme. We are recognised as such, but we are always looking to improve anything that leads to better results."
She saw the accelerator programme as vital to the future of eventing.
"People will be added to that to ensure sustainability over time. We need to be identifying young talent - whether that be rider or horse - and working with them to accelerate their performances so they have the ability to impact at Rio."
Both squads have an open door policy and can be changed at any time.
"It's great to have such depth of good horsepower," Harris said.
"Lining up for London, we were a bit thin on the ground for second and third horses, but by Rio we are going to be really well placed. This is an exciting time for New Zealand equestrian."
The international eventing season kicks off with the Rolex Kentucky Three Day Event in April, followed by the Mitsubishi Motors Badminton Horse Trials.
The world championships in France in 2014 will be the first pinnacle event.
Saddled up
High performance eventing squad
Andrew Nicholson with Nereo, Avebury, Mr Cruise Control, Quimbo, Calico Joe, Qwanza
Jonathan Paget with Clifton Promise, Clifton Lush, Bullet Proof
Mark Todd with NZB Campino, Leonidas, NZB Land Vision
Caroline Powell with Boston Two Tip, Onwards and Upwards
Jonelle Richards with Mere Oak
Clarke Johnstone with Orient Express, Incognito
Lucy Jackson with Kilcoltrim Ambassador, Willy Do
High performance eventing accelerator squad
Jesse Campbell, Joe Waldron, Lizzie Brown and Tim Price
- APNZ