Dylan Cleaver concludes our countdown of the 25 biggest powerbrokers in New Zealand sport with the top five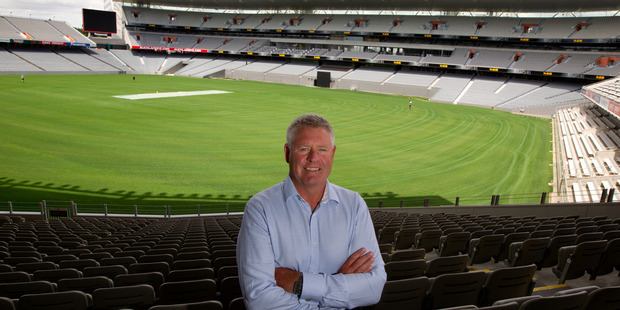 5 Richie McCaw
Captain, All Blacks
Last year: 10
He's on holiday now, which is nice. We wish sun-soaked days and Nelson-hop-infused sunsets. He deserves it.
Most of his teammates are back in work now, but then again, they don't really have McCaw's power over the NZRU, do they?
The 32-year-old flanker nonpareil has moved into that lofty stratosphere of a man who has - cliche alert - transcended his sport.
Just look at how many books he's sold, and we still have a principal telling him off for using swear words (he's a rugby player, folks, not a trappist monk).
McCaw is a phenomenon. A living piece of history and he hasn't even finished his career.
As one person said, "if he texted the PM in the middle of the night, the PM would reply".
4 Peter Miskimmin
CEO, Sport NZ
Last year: 1
There were mixed views on the pervasiveness of Miskimmin's influence. One respected commentator we talked to had him unequivocally at No 1, another said he had been somewhat emasculated by Sport NZ's new structure and was probably only the second-most influential man in that organisation now.
"My sense is his influence is dropping and it's not his fault," the source said. "I think you'll find more memos from McCully's office head in direction of [Alex] Baumann now than they do to Pete."
That might be true, but we still believe that in these early days of the "Baumann project", we'll take Miskimmin's experience and bureaucratic network over the Canadian ... just. There's also the fact that although Baumann is driving high-performance sport now, there's more to the sector than the top end and he still has to report to Miskimmin.
The former New Zealand hockey representative gives the air of a man rarely perturbed. That has been a huge strength as he has presided over massive changes to the structure of Sport NZ, formerly Sparc, with the creation of High Performance Sport NZ - a potentially difficult amalgamation of the North and South Island Academies of Sport and the high-performance arm of Sparc.
The distribution of funding announced late last year caused a few ripples, particularly in the pool, where swimming lost Tier One status (overdue, most would claim), but generally the funding divvy up was well received.
But there is an increasingly vocal minority out there who are agitating for a change in funding philosophy.
"This is taxpayer money," said one source. "It is yours and mine. They [Miskimmin and HPSNZ chief Alex Baumann] have no business giving my money to failing NSOs."
It is a valid point, though Miskimmin will argue quietly but powerfully that a key part of their strategy and focus over the past decade has been to improve the administration and governance of the failing NSOs. While there is still the odd basket-case sport, most are now making steady progress towards functionality.
While this might be early in the Olympic cycle, it will not be a quiet year for Miskimmin. Trouble looms on the horizon, most pointedly in the quagmire that has become the national summer game, cricket.
It seems inevitable Sport NZ will be dragged into the mess and in fact may already have been. There is a suggestion Sport NZ is leaning heavily on NZC to sort out their "talent pathways", asking why a game with a passionate and successful grassroots cannot produce international-standard cricketers.
Knowing how Miskimmin operates, don't expect any grandiose statements.
There are a few people out there who might agree with Sport NZ's methodology, but you will not find many who will argue the toss that Miskimmin's heart is not in the right place.
3 Murray McCully
Minister of Sport
Last year: 5
Curiously, one supporter of McCully's claims to a spot near the top of the list said he was a good sports minister, but not a patch on Trevor Mallard. It was an interesting observation, particularly as the observer would in no way be described as a red or a leftie.
"Where McCully has done well is in getting money for infrastructure investment," he said.
Where he is not so strong, apparently, is his understanding of high-performance athletes or sport in general.
McCully can claim to have played a hand in restructuring and rebranding Sport NZ, increased the Government's high-performance spend to $60 million annually and the establishment of the high-performance centre at Millennium Institute.
He's also proved quite interventionist, with mixed results, in cases such as Ben Fouhy.
A report in the Sunday Star-Times in May suggested McCully was preparing to leave the portfolio, to be replaced potentially by Chris Tremain. It hasn't happened as yet, a sign that John Key is more than happy to have a portfolio he doesn't need to concern himself with (unless there is the chance of a pic opportunity with No 5, of course).
2 John Fellet (Richard Last, Tex Teixeira)
Sky TV troika
Last year: 3
Said one contact, Sky TV should be one, two and three on this list. In which case it would be a fairly boring list. It is easy to point and say, "Where would sport be without Sky's money and broadcasting platform?" We could turn that around and say, "Remember Sky when it didn't have rugby?" Wasn't very good was it? There was a lot of filler; not a lot of thriller.
So we're putting Tew at the head of the table, but at this dinner party expect him to spend most of the evening schmoozing Mr Fellet and his key sports personnel, Last and Teixeira.
New Zealand has some of the highest penetration for pay TV in the world, which is an indication that Sky is providing a good service and is, for many, affordable. In this economic climate, however, they're going to find it difficult to push through more radical ideas, like pay-per-view All Blacks tests and other major events.
Still, they've cornered the market like a shark in a school of bait fish and thanks to the negotiating skills of people like Last, they've underpaid for a lot of it - "No question," said a source, "that's what happens when you have a monopoly".
If they don't have it, they probably don't want it. Even if they don't want it, domestic one-day cricket for example, it's not like anyone else can have it.
They've done a pretty good job of dressing up their sport, though under Teixeira, newly installed head of sports production, there's been a shift towards a style of presentation usually described by three words, the first rhyming with "splits" and the last two being "and teeth".
Whoever dreamed up the execrable Tennis Angels concept needs to get a grip ... and, no, not that sort of grip.
Sky will face challenges, like the aforementioned global economic crisis. If disposable household income continues to fall, Sky decoders will be switched off. There's also the fact that the quality of streaming is improving exponentially and any mug with a PC can now find sport for free if they look hard enough.
Sky are beautifully, but not imperviously, positioned.
1 Steve Tew
CEO, NZRU
Last year: 2
And then there was one.
Steve Tew, chief executive of the biggest and best-performing sport in New Zealand (yes, rowers, you're pretty good too but we're talking the whole shebang here), leads the pack. Even those who don't necessarily admire him have grown to respect him, the sign of an administrator at the top of his game.
There was a time when Tew was recognised as being a formidable operator but a sketchy strategist. While he is still stronger on the operational side, he has grown more aware of the need for coherent strategy and has imported in areas where he might have been previously deficient.
One source said the hiring of Mark Adam as chief commercial officer/general manager commercial showed savvy and maybe even a little bit of humility, something not always associated with Tew.
A fellow NSO CEO said within "the sector", Tew was the one to look up to, while another said he had "grown up as a person and grown into the job".
Perhaps the most telling anecdote we had from a source who knows Tew well was that he believed for the first time he "had been allowed to be a CEO ... because let's be honest, the governance model he is working under is hardly ideal. You could never claim he was working with a top-class board".
Another said Tew had done some strong work in 2012 despite "a board that is struggling", pointing to the franchise licences, which despite the cynicism had attracted some outside money, the AIG jersey deal that passed without too much bloodletting and a fairly seamless transition into the post-Henry era of All Blacks rugby.
"He's got a nice relationship with Mike Eagle [chairman] and a really strong relationship with the coach [Steve Hansen], so that helps. But mainly he's been allowed to breathe and we're seeing the benefits of that; rugby can be a pretty suffocating environment."
The power list
25 Andrew Mulligan, broadcaster
24 Chris Moller, NZ Cricket chair
23 David Ellis, Owner, Te Akau Racing
22 Sir Colin Giltrap, Motorsport magnate
21 Valerie Adams, Olympic champion
20 Richard Clarke, NZ Breakers
19 Gareth Morgan, Welnix
18 Paul Collins, Chairman Sport NZ, Hurricanes
17 Sir Owen Glenn, Warriors owner
16 Peter Dale, Chairman, NZCT
15 Darren Shand, Manager, All Blacks
14 Sir John Wells, Boardroom consultant
13 Raelene Castle, CEO Netball New Zealand
12 Kereyn Smith, NZOC secretary-general
11 Steve Hansen, All Blacks coach
10 Mike Stanley, President NZOC
9 Grant Dalton, managing director, Team NZ
8 Rob Nichol/Heath Mills, head of NZ Rugby and Cricket Players' Associations
7 Essentially Group, Management Group
6 Alex Baumann, CEO, High Performance Sport NZ