Continuing our countdown of the 25 biggest powerbrokers in New Zealand Sport, Dylan Cleaver details the big movers and shakers.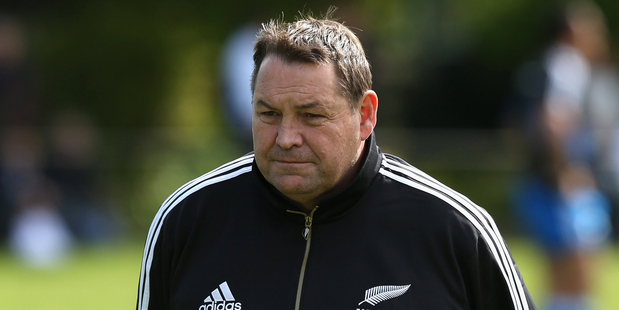 11 Steve Hansen
Coach, All Blacks
(last year: 16)
It's been a hell of a year for the big man with a bagful of bon mots. But we all know how it ended, that's the problem - or "the rock under the towel" as Hansen would say.
It wasn't the defeat, so much as the manner of it, a double-edged sword that suggested the All Blacks were tired (ageing, perhaps?) and vulnerable, but also that England were young and re-invigorated.
Hansen grew as a coach and a leader during the year and, no, the two things are not mutually inclusive.
That's why his spite-filled slapdown of Robbie Deans in Sky's simpering World Cup documentary was an unwelcome regression for some, an example of refreshing honesty for others.
Hansen clearly has a great relationship with Steve Tew, which helps.

10 Mike Stanley
President, NZOC/ CEO, Millennium Institute
(last year: 7)
For a man who holds two key positions in New Zealand sports hierarchy, Mike Stanley keeps a relatively low profile.
As president of the NZOC and a director on the board of High Performance Sport New Zealand, he holds significant influence in funding, policy and selection decisions in elite sport.
In his role as chief executive of the Millennium Institute, he is also in charge of the country's largest high-performance training centre.
In the past 12 months, Stanley has overseen massive transformation at the North Shore facility, which after a decade in operation had reached capacity and was serving neither the general community nor elite athletes well.
With the help of a partnership agreement with AUT, the Institute's high-performance facilities have been transformed into a world-class venue and Millennium is now the official national training centre for High Performance Sport.
Stanley, with other key NZOC staff, has welcomed a former Olympic legend into the fold, with Rob Waddell (mercifully?) taking over from Dave Currie in the chef de mission role.

9 Grant Dalton
Managing director, Team NZ
(last year: 18)
With $37 million of taxpayer money on their books, Team New Zealand have more government investment than any other sport. That well will likely dry up if Dalton does not deliver the Auld Mug back to Auckland this year.
The return for the New Zealand boat-building industry has already been significant, but ultimately it will be the team's performance in San Francisco on which the public will judge whether it is money well spent (although regardless of the result there will be many who maintain a professional sailing team should not be getting government hand-outs).
Dalton undoubtedly runs a tight ship. While other teams have struggled with the complexities of the new AC72 class, Team New Zealand have raced ahead in the testing and development phase, managing to keep the programme on schedule. As Cup defenders Oracle scramble to get their first boat back in the water, Team New Zealand are about to launch their second of the high-tech catamarans.
Frank and outspoken, Dalton hasn't been shy to call out America's Cup administrators for what he sees as unkept promises.
His abrasive style hasn't won him many friends in San Francisco though, and this approach may come back to bite him if Team New Zealand ever need a favour from the events authority.

8 Rob Nichol/Heath Mills
Head of the NZ Rugby and Cricket Players' Associations
(last year: 6)
A curious year for the two-headed beast that has made the lives of many NSO administrators a misery.
"I just get the feeling their influence is dropping a bit," said one long-time administrator. "Rob's problem is the more competent the NZRU gets, the less influential he is, especially when you have a senior player the likes of Richie McCaw."
There's an element of truth to that, but there's the small matter of a collective agreement in negotiation.
There might not be the fish hooks associated with this one as there have been in the past, but women's rugby, particularly the funding of and attitude towards it, looms as a battleground.
Do not underestimate the Players' Association's willingness to scrap over this.
If Nichol's 2012 proved remarkably smooth sailing - even the squabbling over midweek night ITM Cup fixtures barely raised a ripple - then the opposite was true of Mills.
Cricket's day-glo toxicity is eating away at everyone involved in the sport. In Mills' case, there are many former players who, of course, would have walked over burning hot coals and swum through shark-infested waters for the chance of wearing the silver fern, who see him as the root cause of the disaster. No doubt cricket's mess is hurting. Mills is close to David White and he has been noticeably absent from the Ross Taylor debate.
Politically, that's smart. He is duty-bound to look after the best interests of all his players, not just Taylor, so there is nothing for him to gain and a lot to lose by saying something intemperate.
As far as we are aware, Mills still has the full support of the vast majority of his constituents but, paradoxically, that could make him vulnerable, said a well-placed source.
"His influence is falling because the need for that sport to do something radical is fast approaching and, I'm afraid, the players are part of the problem."
Mills loves his job, but another person said they had the feeling that if the highly capable administrator was offered something as challenging but in a more healthy environment, "he might just consider it".

7 Essentially Group
Management Group
(last year: 8)
What separates Essentially from other hard-working management group's like Esportif - led by Craig Innes and Bruce Sharrock - and Kent Hale's Inside Running, is their global reach, broad portfolio that includes event management and a collection of the biggest stars in New Zealand sport on their books, including Richie McCaw, Dan Carter and Dan Vettori.
Through Greg Dyer, they're making gains in the cricket world, but the truth is that apart from facilitating deals between overseas players coming to play in the HRV Cup, there's not a lot of scope to make money in the sport here.
Their bread and butter, therefore, is rugby. In Warren Alcock they have a formidable player manager with an eye for detail that lawyers possess. He might be the key player in this team - he's made this list on his own in the past - but he's not alone. Simon Porter is the slightly less cagey, more heart-on-sleeve protege in their Parnell offices.
They don't always cover themselves in glory: Ma'a Nonu's extraction from the Blues to the Highlanders was a murky affair that did not reflect too kindly on any of the involved, though Essentially would argue that their role is that of player representative, not player adviser.
Once Nonu had made up his mind, their role was to facilitate the move, not try to change his mind.
Essentially are not just involved in athlete management.
Under Lou Thompson, there has been a greater emphasis in recent years on sports marketing strategies and commercial and sponsorship rights.
We realise this is about where Joe and Jane Public average sports fan switches off, but it's important, truly.

6 Alex Baumann
CEO, High Performance Sport NZ
(last year: 4)
There's an argument to be made for Baumann being higher, but let's see how many, if any, wrinkles are exposed in his new funding methodology before we bump him up (last year's positioning was, we will concede, premature).
He's coming from a position of strength, having been an Olympic winner and a highly regarded administrator in his homeland Canada before arriving here.
It also helped that the first major assignment under his watch (though his was, literally, a watching brief), was the 2012 London Olympics, where New Zealand performed so creditably, securing 13 medals including six golds.
In the dark corners of High Performance Sport, however, they'll tell you in furtive whispers that they wanted more, that their matrices pointed to a slightly bulkier haul.
That will play a large part in Baumann's thinking as they target 2016 - and it will also annoy those in non-Olympic sports who will look on longingly from the outside.
"What about guys like Cameron Brown and Terenzo Bozzone who are ignored because they can't win medals," said one observer.
"They're just as inspirational New Zealanders as Olympians and if one of them wins Kona it will be a phenomenal achievement, but they get stuff all because it doesn't fit Sport New Zealand's narrow view of what's important."
The power list
25 Andrew Mulligan, broadcaster
24 Chris Moller, NZ Cricket chair
23 David Ellis, Owner, Te Akau Racing
22 Sir Colin Giltrap, motorsport magnate
21 Valerie Adams, Olympic champion
20 Richard Clarke, NZ Breakers
19 Gareth Morgan, Welnix
18 Paul Collins, chairman Sport NZ, Hurricanes
17 Sir Owen Glenn, Warriors owner
16 Peter Dale, chairman, NZCT
15 Darren Shand, manager, All Blacks
14 Sir John Wells, boardroom consultant
13 Raelene Castle, CEO Netball New Zealand
12 Kereyn Smith, NZOC secretary-general
Tomorrow: 5-1