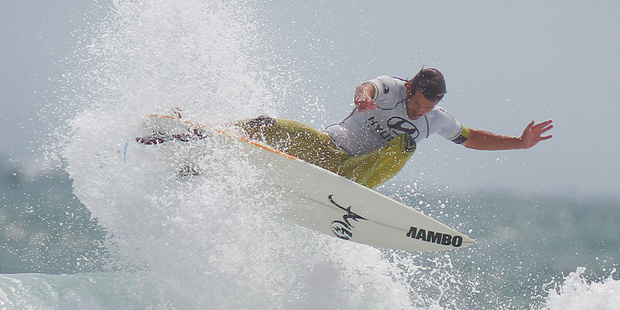 Gisborne's Jay Quinn claimed his third national surfing title yesterday, winning the open men's division of the 2013 Hyundai championships at Piha.
In testing 1.5m-2.0m waves, Quinn won out over his older brother Maz in a low but tight-scoring 25-minute final. Jay Quinn finished with a 13.17 point heat total after opening up with a near perfect 9.33 point ride in the first minute.
"I couldn't hear a thing out there, I knew it was a decent wave but it was right at the beginning of the heat and I thought I could back it up but that it is the way it goes and I couldn't," said Quinn.
Older brother Maz worked away in the middle of the beach getting within reach of Jay scoring a 6.50 point ride midway through the final. It left him searching for a 6.68 point ride in the last 10 minutes.
"I thought Maz might have got something but thankfully he didn't," said Jay.
It is Quinn's third Open Men's Division title after winning his first in 2008 at home in Gisborne and then again two years later at Dunedin. His third title puts him one behind Maz who has won four dating back to 1996.
Despite the win, the desire to compete internationally has not come into the equation for Jay who now resides in Australia.
"I have been travelling and competing all my life. I am now happily married with a young grom and loving just surfing and not travelling. I will do some events in Australia but apart from that I will leave it up to the young guys like Bilbo (Billy Stairmand)."